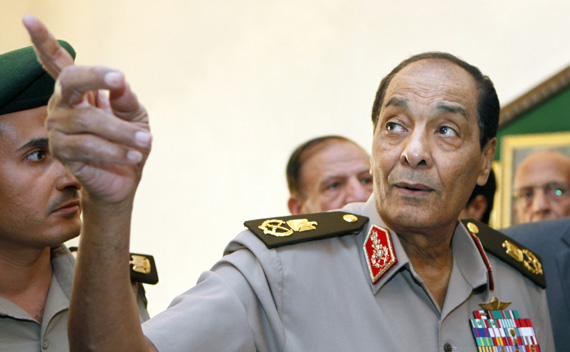 The head of Egypt's ruling military council on Monday intervened to ease tension between the cabinet and the People's Assembly amid MPs' questioning of cabinet members over the lifting of a travel ban on foreign suspects in the NGO funding case.
A government official who spoke to Al-Masry Al-Youm on condition of anonymity said Field Marshal Hussein Tantawi plans to stick with current Prime Minister Kamal al-Ganzouri until the end of the interim period.
Tantawi told Ganzouri in a phone call Monday to convince the cabinet to take part in evening sessions after it refused to attend the morning parliamentary session.
Local Development Minister Mohamed Attiya considered the attack on the cabinet during the session an insult.
The People's Assembly threatened to escalate its stance if the cabinet refused to attend the sessions.
Tantawi renewed his confidence in the government until the election of a new president according to the timeline currently set in place, adding that any votes of no confidence by MPs will not be answered, the government source said.
Ganzouri asked ministers to participate in the session, and the health, tourism, finance, transportation and agriculture ministers attended Parliament's evening session.
Tantawi told People's Assembly Speaker Saad al-Katatny in a phone call Monday to calm the situation and overcome the crisis.
This comes at a time when the prime minister asked the other ministers to continue with their work and not listen to calls for a vote of no confidence. Ganzouri continued his work at the headquarters of the General Authority for Investment and held a 45-minute meeting Monday morning to discuss the issue of transferring tanneries.
The finance, industry and foreign trade ministers also attended.
One minister told Al-Masry Al-Youm that ministers have been told to finish important files related to getting stopped projects back on track and improving economic and security performance.
Ganzouri demanded all ministers, including Insurance and Social Affairs Minister Nagwa Khalil and Planning and International Cooperation Minister Fayza Abouelnaga, not give any statements related to the NGOs funding case.
But Ahmed Abu Baraka, a leader from the Muslim Brotherhood's Freedom and Justice Party, said there are contacts with the Ganzouri government aiming for an agreement over the arrangements needed to hand over responsibilities if Parliament votes in favor of withdrawing confidence.
"FJP will consult with other parties on the formation of a coalition government," Abu Baraka told Al-Masry Al-Youm.
Jama'a al-Islamiya announced its approval of withdrawing confidence from the cabinet. The group said in a statement that its stance came after the foreign suspects in the NGOs funding case were allowed to leave Egypt.
Translated from Al-Masry Al-Youm