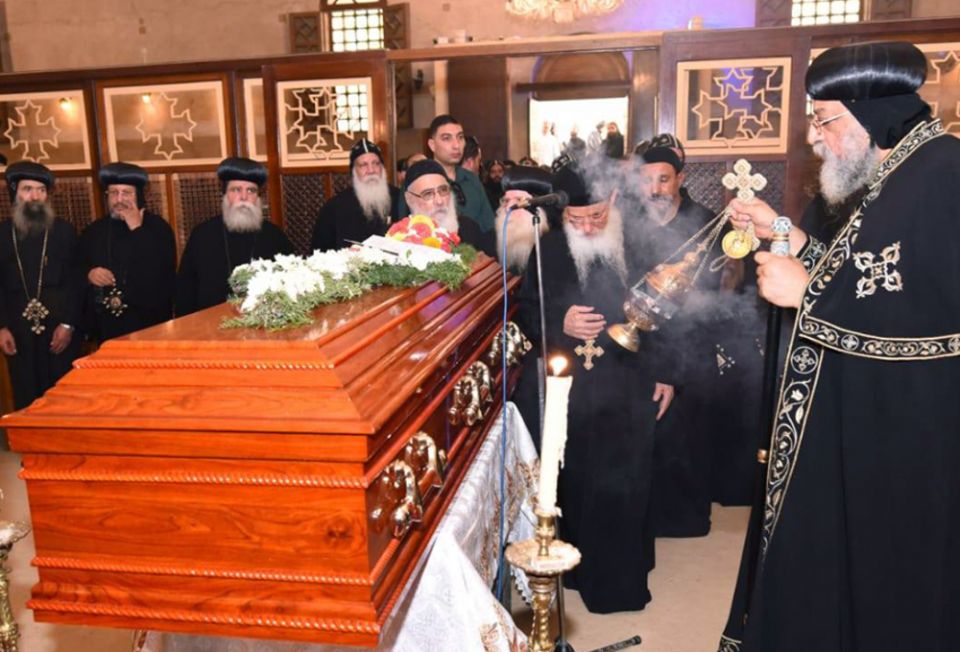 Pope Tawadros II of the Coptic Orthodox Church of Alexandria has offered condolences to the family of the two victims, Emad Kamal Sadek, 49, and his son David, 21, in the Monastery of Saint Bishoy in Beheira after a police guard killed them on December 12.
Pope Tawadros II said, "We bid farewell to the two loved [victims], and are assured of the justice of heaven."
The pope referred to recent clashes between Copts and Muslims in Minya, asserting that they have to deal with such violent incidents with wisdom, tranquility and peace.
He added that the government has developed schools and funded cultural projects to reduce tension and violence among Copts and Muslims in the governorate of Minya.
Meanwhile, Prosecutor-General Nabil Sadek referred the police guard, Rabea Mustafa Khalefa, to the criminal court over charges of intentionally killing Emad and his son David.
Pope Tawadros II said on Friday that he expects decisive action to be taken over the recent shooting in Minya governorate, Upper Egypt.
"The matter is in the hands of the judiciary, and we await swift, decisive and strong measures over the painful incident," the Pope said in televised remarks on Friday evening.
"We follow things with Anba Makarios (the general bishop of the Diocese of Minya and Abu Qurqas) and with the officials concerned. Emad and his son had good reputations and good relations with everyone," the Pope continued.
The pope added that extremism combined with poverty and narrow-mindedness creates a fertile environment for terrorism.
He explained that Minya suffers from a lack of development and needs special treatment and intensification in projects, whether in education, culture or development, and that the recurrence of incidents and points of tension in Minya calls for the intervention of officials.
The Diocese of Minya and Abu Qurqas stated on December 12 that Rabea shot at Emad and David after a quarrel erupted between them when they were lifting house ruins in front of the Church of Nahdet al-Qadasa in Minya.
Edited translation from Al-Masry Al-Youm