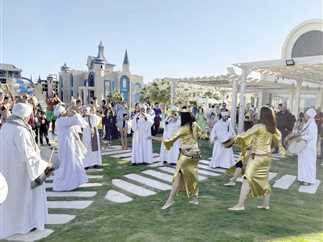 Thousands of tourists celebrated New Year's Eve across Egypt, with two facades of the Abu Simbel temple in Aswan illuminated for this occasion.
The incoming tourist movement revived occupancy rates in hotels and villages in tourist cities.
Saturday evening was filled with joyous celebrations of Christmas and New Year's Day. The tourist facilities were decorated with balloons, Santa Claus figures, flashlights, fireworks and candlesticks.
In Luxor, Egyptians and foreign tourists celebrated to the tunes of the folklore flutes and the Tanoura shows in different tourist facilities. The tourist city witnessed a great turnout with the beginning of the New Year.
Flights came in from Spain, Romania and France, in addition to charter flights coming from Sharm el-Sheikh, increasing hotel occupancy rates and tourist flows to the temples and tombs across on the West Bank of the Nile and hot air balloon flights and cruises on the Nile river.
In the Red Sea, tourist hotels celebrated New Year's Eve and Christmas, distributing gifts to guests. Diving trips and desert safaris witnessed a huge turnout of Russian and European tourists, which led to a tourism boom in the governorate.
Safari tourism in the Hurghada desert attracted thousands of tourists, allowing them a chance to view Egyptian wildlife and scenic mountains and valleys. They also had a chance to learn about the Bedoiun lifestyle up close.