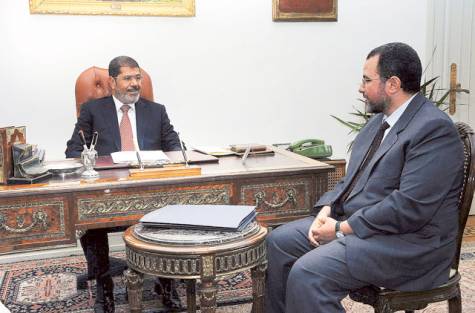 When Hesham Qandil, a low-profile minister, was announced as the new prime minister two days ago, the question on everyone's mind was: "Who is he?" Today the papers ask: Who else will be in the new government? The subject of the cabinet formation dominates the day's top news stories.
State-owned Al-Ahram leads with Qandil having met with the president and the head of the armed forces to begin forming the new government. Some ministers from the current government will stay on, while others will be replaced by new faces. Every paper has an indication of who their sources have told them is in or out.
Qandil's ministerial criteria will be "efficiency, youth and the ability to give", according to Al-Ahram. Unnamed sources close to the prime minister say that he is considering keeping on the ministers of electricity, international cooperation, scientific research, agriculture, and tourism. It adds that there are 30 new candidates being considered for various ministries, whose names are undergoing criminal checks from the relevant security and financial services authorities.
Al-Ahram has a positive take on Qandil's efforts to form the cabinet. A headline reads: "Parties welcome Qandil's government." This is telling not only of the paper's usual pro-government bias, but indicative that President Mohamed Morsy, the man who chose Qandil, seems to have been able to get at least this government media machine on board. When he was elected in June, questions were being raised about whether or not, as an Islamist, Morsy would face opposition from various state-owned entities, like the media.
Al-Ahram's stories play up Qandil's alleged positive roles in syndicates and in Nile water initiatives. Writer Ahmed Nasr Eddin says that although Qandil had opportunities to work abroad he chose to stay in Egypt to serve his country. He says that Qandil's doctoral thesis involved studying sustainable development in energy, agriculture and drinking water, and this is what got him the job at the African Development Bank. "Now, Dr Hesham is completing his success by choosing an economic team for the start of the second republic," Nasr Eddin writes.
Privately-owned Al-Tahrir seems to have insider information about the new premier's relationship with key Muslim Brotherhood financier Khairat al-Shater. Without naming its sources, it tells us that their relationship began in 1994 when Qandil worked with Mahmoud Ghozlan, a teacher of agriculture in Zagazig (Morsy's hometown) and a spokesperson for the Brotherhood. They had a working relationship with a research institute Shater used to own. Qandil's relations with Shater temporarily ended after the latter was imprisoned by the military in 1995. Qandil now attends Shater's weekly Thursday meetings in his home in Nasr City, which also gathers Brotherhood businessmen and those close to Shater, the paper says.
Privately owned Al-Shorouk qualifies the statement about who is welcoming Qandil, saying that these welcomers are Islamist and Salafi parties. It also raises the issue of how many cabinet seats the Brotherhood's Freedom and Justice Party will have.
According to the recently dissolved parliament's Budget and Planning Committee head, Saad al-Hosseiny, who is a party member, the FJP's share will be "half or just under." FJP deputy head Essam al-Erian, who headed the parliament's Foreign Affairs Committee, is quoted as tweeting that "there is no required percentage in the new government and we reject quotas."
Unnamed Salafi sources tell Al-Shorouk that their Nour Party is seeking three ministries: agriculture, health and business.
This differs from numbers provided by FJP party paper Freedom and Justice. It also quotes unnamed sources saying that the FJP wants between seven and ten ministries, the Nour Party two and Al-Wafd one.
Privately owned Youm7 leads with an alleged fight between Morsy and the Supreme Council of the Armed Forces head, Mohamed Tantawi, over the Defence Ministry, which Tantawi also heads. The paper has learned that Morsy has chosen Lieutenant Abbas Mukhaimar, a member of the FJP, to be the head of the National Security and Defence Council in Parliament (which is currently dissolved) and minister of defence. This has caused a stir in armed forces, the paper says.
Al-Shorouk seems to have a scoop with a page-three story about the Interior Minister being angry with Qandil because of his reservations about "security mistakes." According to unnamed sources close to Interior Minister Mohamed Ibrahim, anger was apparent on his face due to Qandil's views on the performance of the ministry. Attempts by the FJP, of which Qandil is not a member, to reform the police force were not received well by Ibrahim, who is apparently only staying on until the end of Morsy's first 100 days in office.
Another scoop is by Youm7, which appears to have obtained court documents showing that the Public Prosecution accepted to settle with Gamal Mubarak, son of the former president, in March over the case relating to his appointment to the board of the Central Bank of Egypt as a representative of the Arab African Bank. He apparently received LE3 million in financial rewards, which he had to return to settle the dispute.
Egypt's papers:
Al-Ahram: Daily, state-run, largest distribution in Egypt
Al-Akhbar: Daily, state-run, second to Al-Ahram in institutional size
Al-Gomhurriya: Daily, state-run
Rose al-Youssef: Daily, state-run
Al-Dostour: Daily, privately owned
Al-Shorouk: Daily, privately owned
Al-Watan: Daily, privately owned
Al-Wafd: Daily, published by the liberal Wafd Party
Youm7: Daily, privately owned
Al-Tahrir: Daily, privately owned
Freedom and Justice: Daily, published by the Muslim Brotherhood's Freedom and Justice Party
Sawt al-Umma: Weekly, privately owned
Al-Arabi: Weekly, published by the Nasserist Party
Al-Nour: Official paper of the Salafi Nour Party