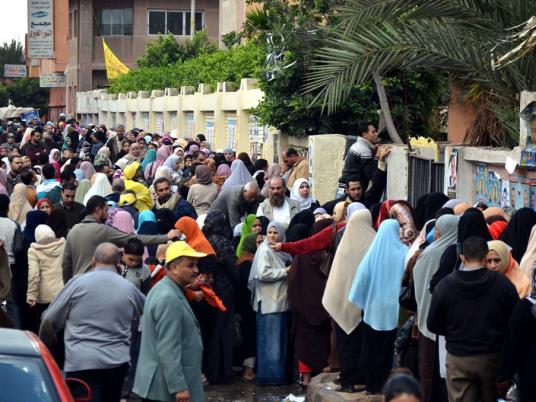 Pictures of Tahrir Square packed with hundreds of thousands of protesters on the anniversary of the 25 January revolution dominate the front pages of Thursday's newspapers, many of which bear headlines with anti-SCAF slogans.
Independent daily Al-Shorouk runs the main demand of protesters in a top headline: "Down … down with military rule." Youm7, another independent paper, has a headline reading, "Say it, don't be afraid … the military should leave."
After criticizing mass protests early on last year, state media continues to show its ever-changing colors with this year's coverage. Al-Akhbar leads with the headline, "Revolution on the anniversary of the revolution," while Al-Ahram goes with, "The people want the continuation of the revolution."
Al-Wafd, the mouthpiece of the liberal party of the same name, writes about the Freedom and Justice Party's insistence on setting up its own stage in Tahrir Square and declining to join with other political parties. The stage conflict prompted fighting between the Brotherhood's party and liberal and secular groups.
The same paper reports that participants in a march from Cairo University to the square clashed with those in a pro-military march organized by Ain Shams University students.
Al-Shorouk's front page lists the unmet demands protesters reiterated Wednesday, emphasizing ongoing corruption and oppression. Protesters held up signs demanding a purge of Mubarak regime holdovers from the interior, justice, and information ministries, a power transfer from the military council to a civilian authority and retribution for the revolution's martyrs.
Privately owned Al-Dostour reports thousands of protesters held massive marches all over Cairo's squares and streets, demanding retribution for the martyrs. The accompanying photograph shows demonstrators carrying coffins draped with Egyptian flags in a symbolic funeral for those killed during protests over the past year.
Al-Shorouk publishes an entire statement posted on the Supreme Council of the Armed Forces' Facebook page Wednesday, in which the military vowed to step down by July and defended the need to govern until then.
"We will return back to our barracks on 30 June following Shura Council and presidential elections. Egypt is now recovering by its youth, energy and creativity … we pray for the martyrs who sacrificed their souls for the sake of protecting this country," quotes the paper.
Columnist Wael Qandil writes in Al-Shorouk that the masses who flooded streets across the country Wednesday are strong proof for the continuing legitimacy of Tahrir Square, which cannot be ignored even after People's Assembly elections. The writer goes on to praise protesters' civility during the anniversary and tell legislators not to let down the people who placed their faith in them.
Egypt's papers:
Al-Ahram: Daily, state-run, largest distribution in Egypt
Al-Akhbar: Daily, state-run, second to Al-Ahram in institutional size
Al-Gomhurriya: Daily, state-run
Rose al-Youssef: Daily, state-run
Al-Dostour: Daily, privately owned
Al-Shorouk: Daily, privately owned
Al-Wafd: Daily, published by the liberal Wafd Party
Youm7: Daily, privately owned
Al-Tahrir: Daily, privately owned
Freedom and Justice: Daily, published by the Muslim Brotherhood's Freedom and Justice Party
Sawt al-Umma: Weekly, privately owned
Al-Arabi: Weekly, published by the Nasserist Party
Al-Nour: Official paper of the Salafi Nour Party