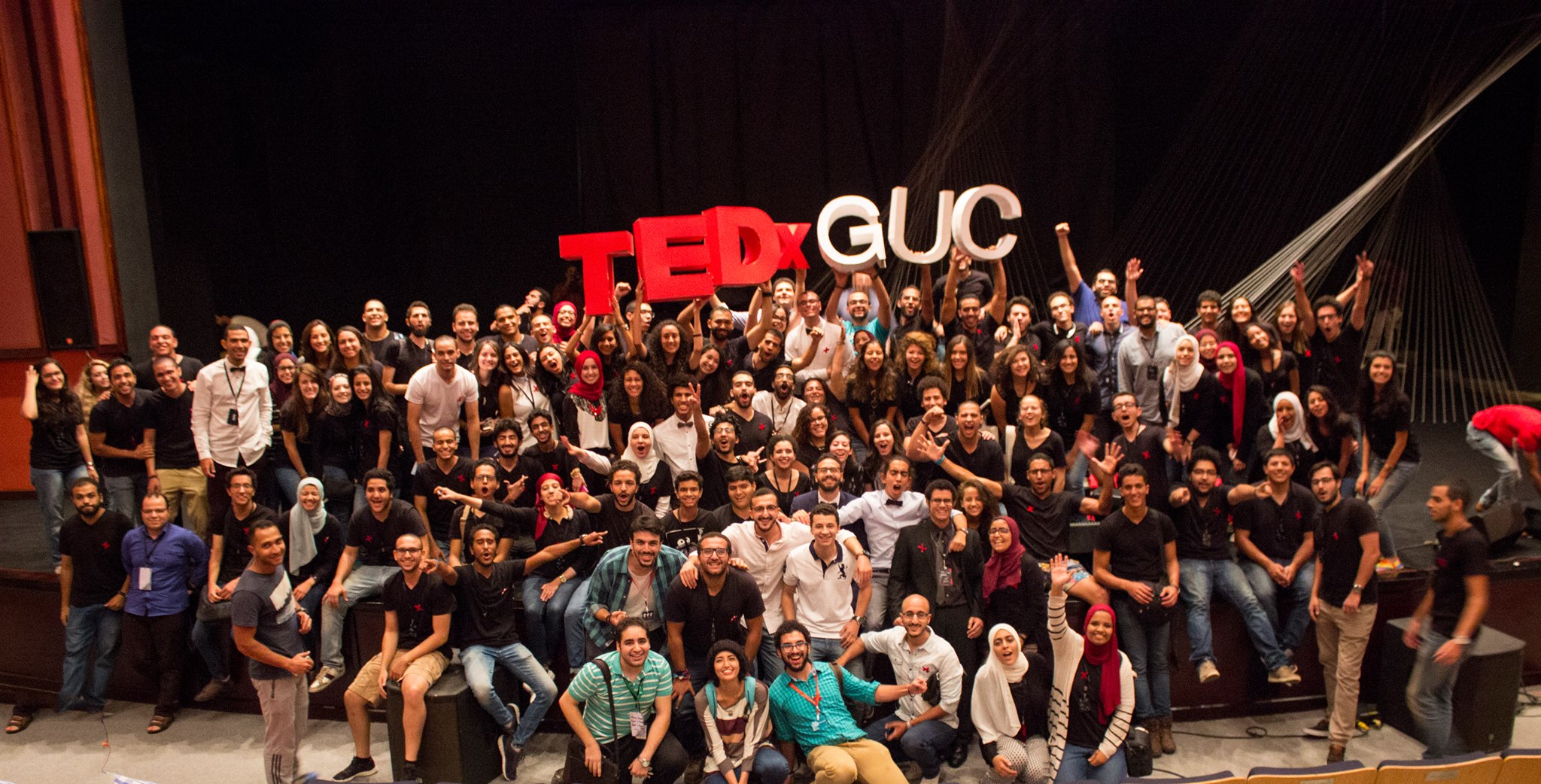 TEDxGUC is a platform aims to amplify the ideas and mindsets of which are embedded within the Egyptian society which may shed light on unknown issues or bring solutions to hazardous cases. All in all what is brought up by TEDxGUC is by Egyptians for Egyptians.
It has been a venue for "ideas worth spreading" from all over Egypt for more than 5 years now.
TEDxGUC  is planned, facilitated and run by students. Many talks had been hosted so far providing diverse topics including sports, art, health, business, social innovation and much more.
An example of such talks are; Sara Aziz's – Exposing Hidden Dimensions of Child Sexual Abuse and Sue Ellen's – Criminals in Suits.
TEDxGUC's produced talks are uniquely identified with the following characteristics:
1- Idea based research
On contrary to a lot of beliefs that TEDx is about approaching celebrities, famous people in your community to speak up; we in TEDxGUC have worked so hard to replace this belief with a structured ideas-based research. We first brainstorm topics, then sub-topics from them and we keep narrowing down the scope until we reach the idea. We evaluate ideas. We even score them numerically based on specific metrics. This is our most important, valuable and invested process, we care about the idea. Idea comes first, not the speaker!
2- Idea ownership and credibility.
Why you, specifically should be on our TEDx stage giving this talk? Have you published a research paper? Have you started a new developmental project? Is your new perspective/opinion a fresh one and based on scientific proofs? We do care about the speaker's attachment to the idea and we do care always about selecting our honorable speakers after a long research process. We care about the credibility of the information in our talks, we don't stop our research even when the speaker has agreed to give the talk!
3- Idea integrated into a talk.
There is an idea, and there is TEDxGUC's way to integrate this idea into a TED-like talk. Whether this idea is a project, a scientific research paper or an artistic statement, we put this idea into a TED like structure and the integration happens, smoothly!
4- Not your typical motivational talks!
Standing on the stage reciting a lot of Martin Luther King's famous quotes , using his body language to spread this vibe in the hall and screams "You, yes you could change the world!". Please NO, don't do this!
Motivation is always a by-product, it's never your aim or your goal as a talks coach. Never approach speakers because they are motivational or inspirational speakers who got nothing valuable to share.
Our mission is clearly to share an idea worth spreading, that we believe it'll have a huge impact on our community. Our vision is to have a diverse lineup that covers a lot of topics that respects the mindsets of our attendees, offline and online and adds to their knowledge.
5- Easy to comprehend by the audience.
It doesn't matter if the speaker is talking about the discovery of a new biomarker that'll help them treat heart attacks faster, or sharing an adventurous experience with morals and lessons that are worth sharing. You'll get it, understand it and like it.
6- Structured, scripted and well-rounded! 
The first meetings with the speaker are the meetings where the idea's direction is decided and a preliminary structure for the talk is issued. Later on the talk is scripted, the transitions are put and the masterpiece is complete!
Every single talk on TEDxGUC's stage is structured in a manner that makes the flow smooth, the attendee engaged and the speaker is relaxed jumping from one point to another.
7- A top notch speaker's performance.
Rehearsals, rehearsals and rehearsals! We care about the delivery and the performance of the speaker on the stage as much as we care about the core of the idea.
We rehearse while sitting down, while standing up, with the visuals and without the visuals. We just rehearse!
8-Maximizing our attendees experience through the use of visuals. 
A great idea and a speaker who rehearsed a thousand times are not enough to deliver the masterpiece on the stage, and here comes the visual dimension. We have a dedicated team composed of 12 maestros who work on visually producing all the talks. The production is either done using basic illustrations, animations, audio, video or even on-stage installations. This is the dimension that takes the talk to another level of understanding, idea-elaboration and makes it look like a complete experience inside the hall serving and respecting all the learning styles. Producers work on understanding the talk, it's main idea, supports and all the transitions in order to place their visual vision to serve the valuable sharable aspect of the talk.
9- Speakers' experience. 
"The harmony and dedication of the team was a great inspiration and marvel for me. I was always humbled and impressed by the perfect combination of sharp minds and soft souls of the team. I felt I was carried on their arms and delivered to the stage in the most prestigious way. The relationship with the team went beyond the event and still going strong."  Said by Ahmed Saqfalhait our speaker in Cascade 2016 event; exactly reflects what kind of experience we aim to share with our speakers. We care about adding a value to them through our coaching system, through having visionary coaching sessions with a mix between work and fun, getting work done and sharing food with our speakers. We maintain an unbreakable bond after the event and we care about having them invited to all of our events, present in our meetings and we consult them for advice, always!
10- A talented, dedicated and well-trained team.
More than 30+ members belong to the great Talks division in TEDxGUC every year, a research team to work on the idea-based research, a coaching team to work on coaching the speakers and a production team to visually produce the talks. Someone who belongs to talks division is always dedicated, gives his best and loves what he/she is doing. We have this belief that what we do can change individuals, communities and maybe the world. We help people with ideas worth spreading to deliver those ideas in the best way possible and we are completely dedicated to this mission.
TED stands for Technology, Entertainment and Design. It is a non-profit organization that started in California in 1984 under the slogan "Ideas worth Spreading" offering a platform to share ideas.
Its program is branched from TED, where the x stands for "Independently organized event" . The x is the license you acquire that allows you to hold a TED-like event in your local community.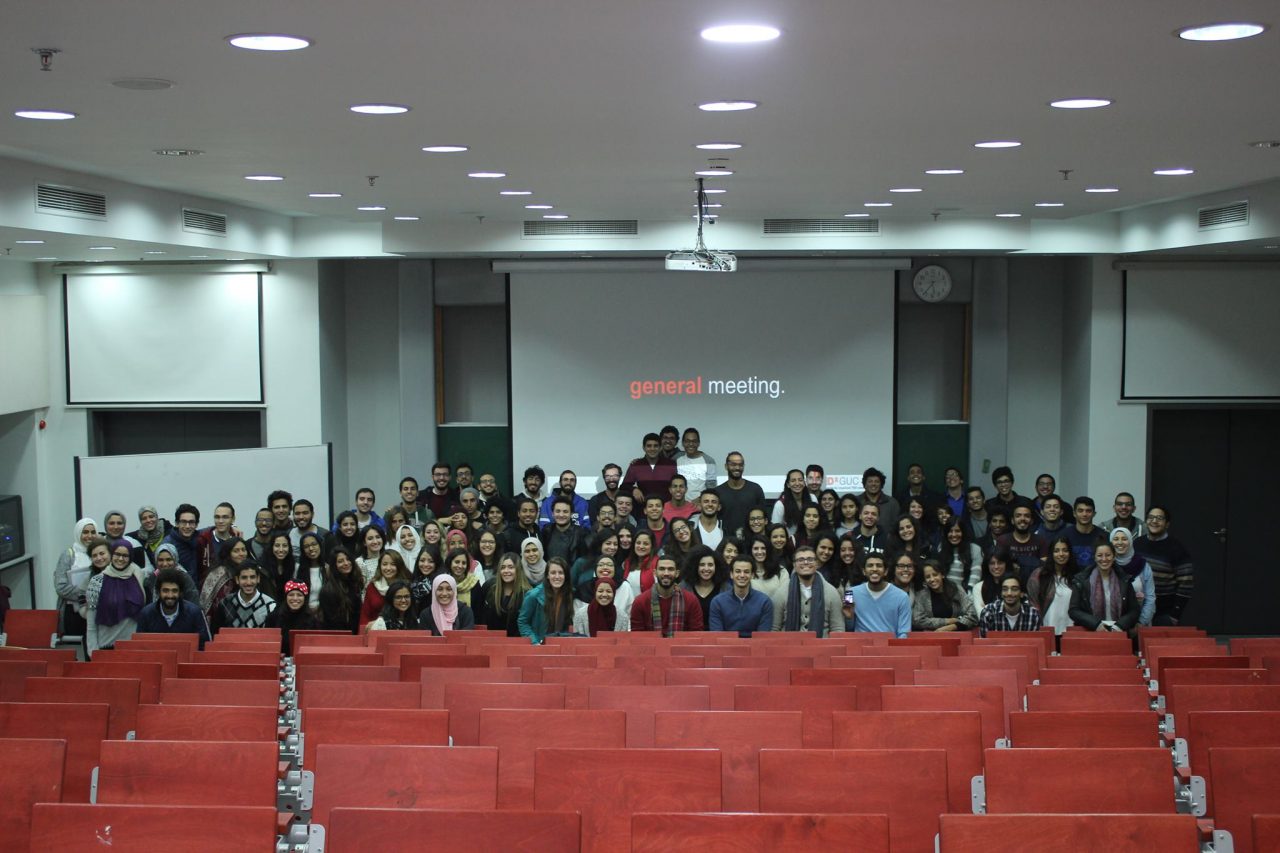 If you are interested in the next event of TEDxGUC, check this link: https://www.facebook.com/events/461133337618730/?ti=ic
For more information, check TEDxGUC Facebook page: https://www.facebook.com/TEDxGUC/