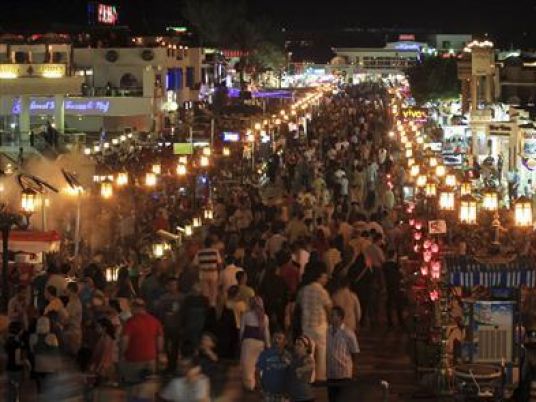 The season for Arab tourists visiting Egypt started on Wednesday, the first day of Eid al-Fitr, with high hopes that it would make up for the ongoing slump in Egypt's tourism sector after a string of major setbacks.
Sami Mahmoud, head of the Egypt Tourism Authority, told al-Masry al-Youm that more Arab tourists are expected to visit Egypt during the hot summer months of July and August.
Egypt's tourism industry has been rocked in recent years by ongoing political turmoil and a series of damaging incidents, some of them deadly. In October last year, a Russian passenger plane crashed over Sinai, killing all 224 people on board, most of them Russian tourists. That crash led to a halt on passenger flights to Sharm el-Sheikh from Russia, Turkey and UK, devastating the tourism industry in the Red Sea reseort town.
Since that time, Egypt has been struggling to replace the lost tourism revenue, with the number of foreign tourists in March just 47.2 per cent of the figure for the previous year, according to the Central Agency for Public Mobilisation and Statistics (CAPMAS). The agency attributed its findings to a massive decline in the number of Russian tourists, with a registered fall of 99.2 percent since the crash.
One possible solution to the crisis, according to the Egyptian government, is to attract more tourists from the Arab world, and efforts have been made in recent months to make that happen. Tourism Minister Yehia Rashid said a promotional and marketing campaign has been launched in the Arab market during the month of Ramadan, reaching 20 million Arabs.
According to official figures, there has already been some success, with a 15 percent increase in Arab tourists, said Rashid. Meanwhile, there is an estimated 30 percent increase in Chinese toursits and a 25 percent rise in Ukrainians.
He predicted an increase in foreign tourists in Cairo, Hurghada and Sharm el-Sheikh during the Eid al-Fitr holiday period, as well as the summer vacation, as a direct result of the recent promotional campaign.
Travel agencies have intensified advertising on social media for Eid offers. In Sharm el-Sheikh, for example, the deals include a per-person price of between LE750 and LE1,500 for three days in a double room, all-inclusive, in a four- or five-star hotel.
Edited translation from Al-Masry Al-Youm