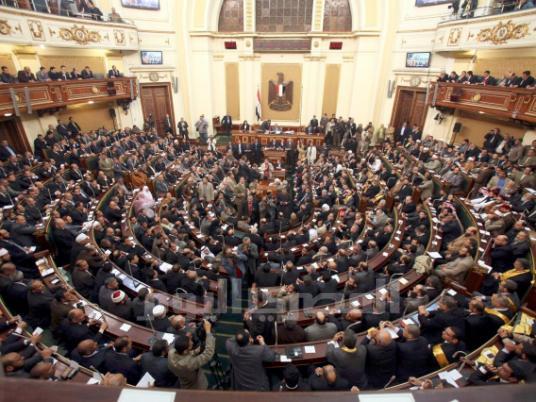 Tuesday's papers focus their front-page coverage on presidential campaigns and controversies, and Parliament's amendment of the contentious Presidential Elections Law and its referral to the Supreme Constitutional Court.
The papers also cover another acquittal issued by a criminal court for two police officers accused of killing protesters during the January 25 revolution, and the ongoing diplomatic row over the funding and operation of foreign NGOs in Egypt.
Independent Al-Tahrir's headline reads, "Parliament: No amendment of the provision guaranteeing immunity to the committee supervising presidential elections." The article mentions that the People's Assembly agreed to amend provisions of the Presidential Elections Law, with the exception of Article 28 — "which remains untouched." Article 28 stipulates that the committee supervising these elections be granted independence and legal immunity. The paper indicates that Article 28 was off-limits to parliamentary amendments, in light of an alleged agreement between the Muslim Brotherhood's ruling Freedom and Justice Party and Egypt's ruling military council.
On Monday, the lower house of Parliament made several amendments to the draft law on presidential elections, before referring this draft to the Supreme Constitutional Court, which is due to issue its findings within 15 days. Privately owned Al-Shorouk leads with the headline, "Parliament preliminarily approves of amendments to Presidential [Elections] Law." The paper indicates that the Muslim Brotherhood refused to amend Article 28, while the opposition Socialist Popular Alliance Party MP Abul Ezz al-Hariry warned of another revolution against the next president due to these political maneuvers.
The liberal opposition paper Al-Wafd runs the headline: "Arguments in Parliament nearly lead to fistfight over Presidential Elections Law." The paper mentions Hariry's stance against Article 28, arguing that the committee supervising these elections would remain under the control of the Supreme Council of the Armed Forces, which could have a free reign in determining the committee's policies and decisions and thus influence the outcome of any or all future presidential elections. The MPs' arguments regarding the powers of the committee led to heated debates and squabbles — and nearly led to fistfights between supporters and opponents.
State-owned Al-Gomhurriya leads with, "Delegates, media, civil society and election monitors — Article 28 is off-limits." The article points out that — under this provision of the Presidential Elections Law — no appeals can be made to decisions issued by the supervisory committee. A headline in the independent Al-Dostour reads, "Egypt is passing through its most critical phase." The paper argues that in return for not amending Article 28, the SCAF would give Islamists — who dominate both houses of Parliament — the right to appoint the constitutional assembly and draft Egypt's new constitution according to their preference.
"Mansour Hassan is to announce his presidential candidacy next week," according to Al-Gomhurriya. This elderly statesman had served as both the culture and information minister under former President Anwar Sadat. At the same time, more controversies continue to surround Ahmed Shafiq's presidential bid. Shafiq — a former civil aviation minister who was appointed prime minister by Hosni Mubarak during the 18-day uprising against his rule early last year — is being haunted by lawsuits. According to Al-Tahrir, "Judicial sources indicate that 14 legal complaints pertaining to 87 different incidents" have been filed against the presidential hopeful.
Al-Tahrir also covered the announcement of Khaled Ali's presidential bid. Ali, a prominent labor lawyer and activist, is described in the paper as being "the candidate closest to the revolution" and a representative of Egypt's workers, farmers, simple folk and poverty-stricken peoples. As for presidential hopeful Abdel Moneim Abouel Fotouh, an ousted member of the Muslim Brotherhood, the candidate appears to have fully recovered from an armed assault and robbery that took place last Thursday. The armed assailants who attacked Abouel Fotouh and stole his (rented) car have been apprehended and confessed to committing highway robbery, saying they did not know who they had targeted and that they did not target him for political reasons.
Regarding the acquittal of two police officers accused of killing protesters during the 25 January uprising, Al-Shorouk runs the headline, "Two officers found innocent in charges relating to killing of revolutionaries." The two junior officers had been accused of killing two protesters outside the police station in Cairo's Salam City during the "Day of Anger" protests of 28 January 2011.
Al-Gomhurriya writes, "These officers were cleared of all charges of voluntary manslaughter." In Al-Tahrir says, "Another acquittal ruling for officers accused of killing protesters." Al-Tahrir quotes legal analysts who argue "this scenario will be repeated in the Mubarak trial." Some 850 protesters were killed across Egypt from 25 January to 11 February and thousands more injured, yet no security officials or statesmen have yet been indicted for this.
Al-Wafd runs a headline reading, "America uses smooth talk in foreign funding case." The article quotes Secretary of State Hillary Clinton responding to a question on the American channel CNN about how she feels about the NGO criminal investigation.
"Well, I don't want to go making this a dramatic confrontation," Clinton replied. "It's a problem. We have problems with a lot of our friends around the world. We're trying to resolve it."
The article mentions that Egypt has been in the process of limiting US influence in the country since the revolution began.
A total of 43 NGO workers — from the US, Egypt, Germany, the Palestinian territories, Jordan and Serbia — were summoned to trial on Sunday, accused of receiving illegal foreign funds, attempting to destabilize the country, and even of wanting to divide Egypt into four different states. The US has threatened to withhold its annual military aid package, which amounts to over US$1.3 billion, if its nationals are indicted on charges relating to this case.
Quoting the Washington Post newspaper, Al-Dostour mentions "concerns that aid cuts would eliminate US influence, and turn Egypt into another Pakistan." However, Al-Dostour also mentions that this case will most likely be resolved diplomatically, not judicially.
Egypt's papers:
Al-Ahram: Daily, state-run, largest distribution in Egypt
Al-Akhbar: Daily, state-run, second to Al-Ahram in institutional size
Al-Gomhurriya: Daily, state-run
Rose al-Youssef: Daily, state-run
Al-Dostour: Daily, privately owned
Al-Shorouk: Daily, privately owned
Al-Wafd: Daily, published by the liberal Wafd Party
Youm7: Daily, privately owned
Al-Tahrir: Daily, privately owned
Freedom and Justice: Daily, published by the Muslim Brotherhood's Freedom and Justice Party
Sawt al-Umma: Weekly, privately owned
Al-Arabi: Weekly, published by the Nasserist Party
Al-Nour: Official paper of the Salafi Nour Party