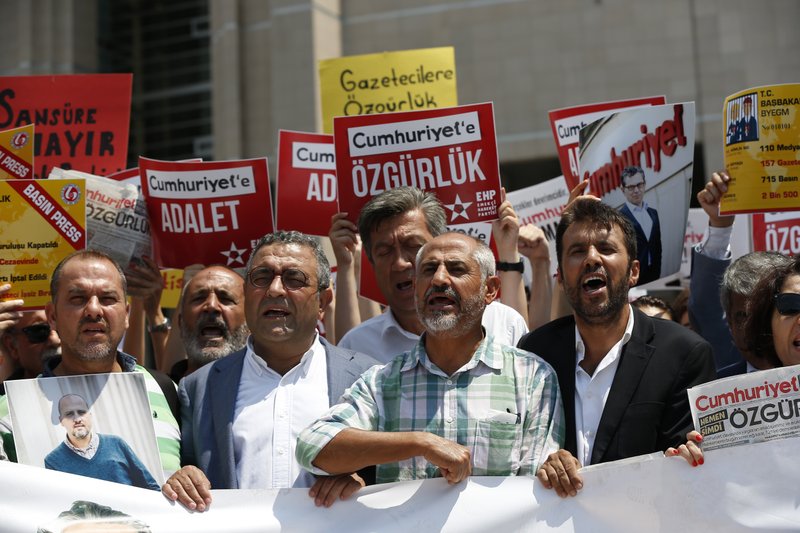 A Turkish court on Friday ordered the release of seven journalists and staff members of an opposition newspaper pending the outcome of their trial but ruled that five others should remain jailed.
The employees of Cumhuriyet, a newspaper staunchly opposed to President Recep Tayyip Erdogan, are accused of aiding terror organizations in a case that has added to concerns over rights, freedoms and judicial independence in Turkey.
A total of 19 people are on trial, including Cumhuriyet's editor-in-chief Murat Sabuncu, investigative journalist Ahmet Sik, commentator Kadri Gursel and cartoonist Musa Kart.
They're charged with "sponsoring" several outlawed organizations, including Kurdish militants, a far-left group and the network of U.S.-based cleric Fethullah Gulen, who is blamed for last year's failed coup. Two of the suspects, including Cumhuriyet's former chief editor Can Dundar, are being tried in absentia. Dundar is in Germany.
Their arrests were part of a widespread government crackdown in the wake of the coup that has led to the imprisonment of more than 50,000 people, including journalists, opposition lawmakers and activists. Critics say the crackdown that initially targeted people suspected of links to the failed coup has expanded to include government opponents.
Kart was among those who were ordered released pending trial. Sabuncu, Sik and Gursel will remain jailed. Five of the defendants had been released before the start of the trial.
The trial was adjourned until Sept. 11.
Some of the Cumhuriyet staff members have been in prison for nine months. They face sentences between 7½ and 43 years.
All of the defendants denied the accusations during five days of hearings this week.