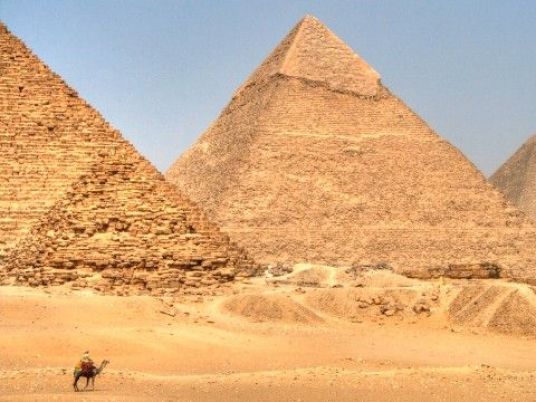 Giza police arrested 12 people on Monday on charges of harassing tourists at the Giza Pyramids, as security forces implemented a security crackdown in the area.
Police arrested people for operating as street vendors without a license and selling horse and camel rides without the proper authorization.
The security crackdown follows a number of recent incidents that have sparked concerns about the security measures on the Giza Plateau, a major tourist attraction drawing thousands of visitors.
Earlier this month, three people were arrested for allegedly selling small pieces of a stone block from one of the Giza Pyramids. The suspects were identified after a video made by undercover journalists from news website Dot Masr, in which the journalists purchased stones said to be from the pyramids.
Journalists used a hidden camera to capture horse-carriage drivers selling two stones for LE250 (US$32).
Responding to the incident, Salah Al-Hadi, coordinator of the Archaeologists' Syndicate told Ahram Online that security measures must be improved in order to stop such practices, protecting the ancient monuments from abuse.
In another apparent breach of security, 18-year-old German tourist Andrej Ciesielski clambered up the Great Pyramid at Giza and photographed himself standing on top. Climbing the pyramids is banned, but Ciesielski says he was told by local guides that he could probably get away with the stunt, according to the Mail Online.
The tourist was arrested by police on his return to earth but later released after questioning, although he was given a life ban on visiting Egypt.
Edited translation from Al-Masry Al-Youm