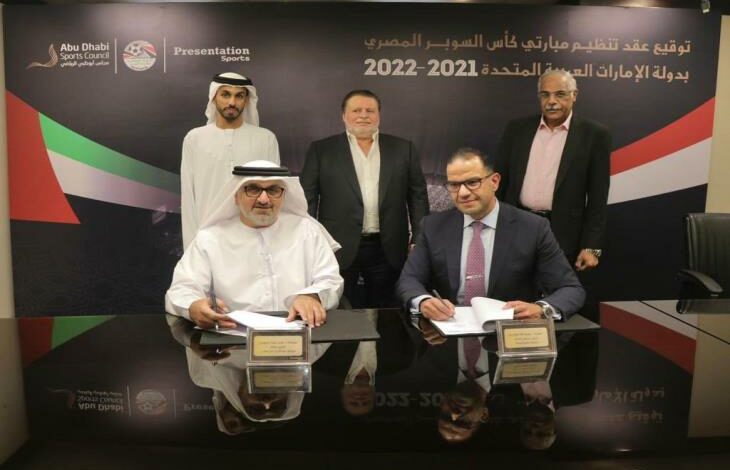 The United Media Services company (UMS) and Presentation Sports signed a protocol to cooperate with the Abu Dhabi Sports Council (ADSC) to hold the two Egyptian Super Cup matches for the last season 2020-2021, and the current season 2021-2022 in the UAE.
An extensive meeting was held, on Monday, in the presence of Hassan Abdullah, Chairman and Managing Director of the UMS, Saif al-Waziri, Chairman and Managing Director of Presentation Sports and Estadat sports company, Mohamed Yahya Lotfy, Vice Chairman and Managing Director of Presentation Sports, and Gamal Allam, president of the Egyptian Football Association, his deputy Khaled al-Darandali, Hazem Emam and Mohamed Barakat, members of the board, and Walid al-Attar, executive director of EFA.
From the UAE side, there were Aref Hamad Al Awani, Secretary General of the ADSC, Suhail Abdullah Al-Arifi, Acting Executive Director of the Events Sector at ADSC, Mohammed Abdullah Al Dhaheri, Secretary General of the Emirates Football Association, Nasser Yousef Al Zaabi, Director of the Communication Office of ADSC, and Abdul Rahim Hassan Al Zarouni, Director of the Office of the Secretary-General of the ADSC.
The UAE has pledged a wonderful organization of the two Egyptian local Super Cups, given its great technical, public, media and marketing value, in a way that supports the historical relations and the fateful ties between the UAE and Egypt, and enhances the march and continuous work plans, the busy agenda, and the joint efforts in support of embodying development and growth in the sports movement between the two countries.
ADSC officials also expressed their overwhelming happiness to host the Egyptian Super Cup again, which will be a wonderful extension for the presence of Egyptian football with its stars, flags and fans on the land of the Emirates, which receives and welcomes everyone after the great successes achieved by past experiences and important gains, in terms of the Egyptian youth gathering and the big Egyptian fans support on the land of UAE.
They stressed that the Abu Dhabi Sports Council is keen to harness all possibilities to achieve the organizational success of the Egyptian Super Cup matches, and work to enhance the prestigious reputation enjoyed by major events.
Zamalek won the Egyptian Premiere League title last season and reached the cup final in the same season.
Al-Ahly will face Pyramids in the quarter-finals of the Super Cup last season, with the winner facing Petrojet in the semi-finals.