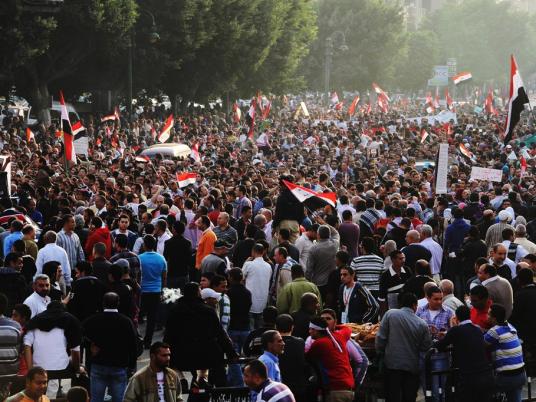 Clashes continued in Alexandria on Friday evening after fighting broke out between Islamist and opposition forces in front of the Al-Qaed Ibrahim Mosque earlier in the day.
The number of injured people has risen from 13 to 58, said the Health Ministry. Meanwhile, some unidentified people put fire into two buses and a car. It is not clear whether the buses belong to the security forces or to Islamist protesters.
Security forces initially attempted to disperse protesters by throwing tear gas canisters. Eyewitnesses reported that later in the day, they began chasing protesters down the streets and alleys surrounding the mosque. A security source said that so far 12 personnel were wounded in the clashes.
During the Friday sermon this morning, the mosque's preacher Ahmed al-Mahalawy criticized the comments of a former presidential hopeful, whom he did not name, regarding the events that took place outside the mosque in Alexandria last week. This anonymous individual had said that the mosque had been desecrated when politics were discussed inside it, but Mahalawy said that mosques are not only for prayer.
Last week, the Al-Qaed Ibrahim Mosque witnessed similar clashes between supporters of President Mohamed Morsy and members of the opposition. Protesters besieged the mosque, trapping Mahalawy inside for 14 hours, as they claimed that he was hiding Salafi activists who had attacked them. The protest today, dubbed "the Friday to Defend Scholars and Mosques" was held by Islamist supporters to express the solidarity with Mahalawy.
The events that occurred last week will not happen again, Mahalawy said, noting that only the enemies of religion had ever attacked mosques throughout Islamic history.
Mahalawy said some of the protesters who besieged the mosque last Friday included "people who call themselves Muslims" as well as non-Muslims.
The violence was aimed at stopping the constitutional referendum, and media reporting on the incidents were false, the preacher claimed.
Mahalawy said many figures were expected to participate in Friday's protest. Participants said that the protest does not represent a particular group, but Islam in general.
Like last week, the protests and the clashes in Alexandria are taking place on the eve of voting in the constitutional referendum. Last week, voters took to the polls despite the clashes. The second phase of the referendum is due to take place on Saturday in 17 other governorates. The Islamists-backed constitution draft has been slammed by the opposition for not safeguarding basic rights and liberties.
Edited translation from Al-Masry Al-Youm