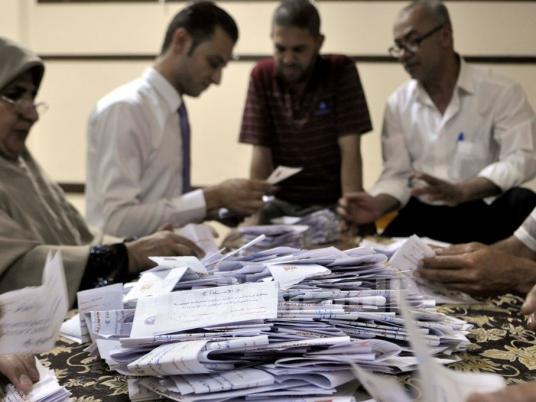 The head of the Presidential Elections Commission (PEC) said Tuesday that the final results of the presidential race may be announced later than Thursday, 21 June.
Farouk Sultan told privately-owned channel CBC that the delay would give the commission time to consider the challenges submitted by Ahmed Shafiq and Mohamed Morsy's campaigns.
State-run news agency MENA quoted Sultan as saying that the PEC decided to summon the candidates to hear from them about the challenges they have submitted. This decision was made after the number of challenges reached 400.
PEC member Judge Omar Salama told MENA that the commission will hear from Morsy and Shafiq separately on Wednesday.
Sultan revealed that three polling station workers from Giza, Fayoum and Daqahlia were referred to the public prosecutor's office on charges of manipulating election results. They have been detained pending the results of the investigation.
Abdel Aziz Salman, deputy secretary general of the Presidential Elections Commission, told Al-Masry Al-Youm Tuesday that results from 22 governorates have already been compiled, adding that the commission has received the results from all governorates.
"There were some simple errors that would not affect the final results to be announced Thursday," Salman said, adding that only the challenges would have such an effect.
"We have received 125 challenges as of Tuesday from Mohamed Morsy's campaign," he said. "And Ahmed Shafiq's campaign told us it would send theirs but nothing was received as of 3 pm."
Morsy's campaign had announced the victory of its candidate by 52 percent, based on unofficial results, while Shafiq's campaign announced on Tuesday their candidate's victory by half a million votes, excluding the challenges.
"We are willing to take all necessary legal steps to prove that Shafiq is the next president of Egypt," said Ahmed Sarhan, spokesperson for the Shafiq campaign, calling on Shafiq's supporters not be deceived by false propaganda.
Sarhan also said the challenges would reveal that Morsy's supporters manipulated the ballots while still in the print shop.
"The figures announced by Morsy's campaign are wrong but the media used them to create confusion," he said. "Ours are the correct figures."
Edited translation from Al-Masry Al-Youm