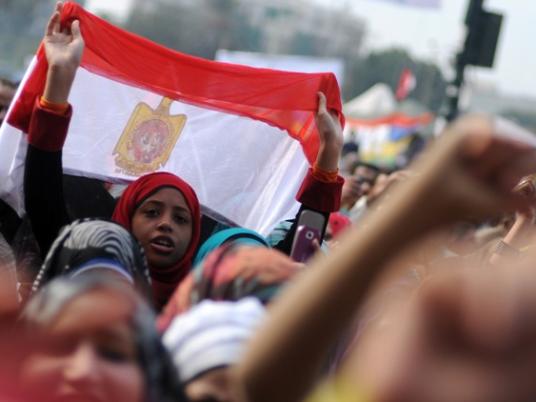 By 12 noon numbers were steadily increasing in Tahrir Square, well into the thousands. The protesters were mostly young people, but some families were also present.
Mohsen Awf, 42, a microbus driver from Damietta, said "I came to the square because I wanted to see it for myself, not just on television."
He said he won't be voting because he hasn't seen any candidates that truly represent the revolution and the people. "It's like the revolution before, the politicians hid until Mubarak left, and only then came out on the streets. The candidates are hiding in their houses now."
Al-Masry Al-Youm spoke to 40 people who had come down from the city of Matrouh one week ago. Their tent was prominently positioned in the square, and they had joined forces with doctors to turn it into a field hospital.
One of the group, Saeed Gohar, said he came to be part of the revolution and wants the military council to step down. He argued that as the military are ruling the country without legitimacy, the elections are not legitimate. He said that a national salvation government must be formed by the Tahrir revolutionaries themselves.
He said he doesn't know enough about Mohamed ElBaradei to have an opinion on whether he could lead a government, adding that he has seen no political figures camping with the revolutionaries in the square.
Nearby a large poster listed four demands drawn up by head of Lawyers Syndicate chief Sameh Shohour.
It said elections cannot happen during the security vacuum and that a national salvation government must be formed to carry out the revolution's demands.
The four demands were: the creation of a constitution within 60 days; the appointment of a president as soon as the constitution is in place; the trial of those who killed revolutionaries; and the appointment of a civilian to head the Interior Ministry.
An April 6 Youth Movement poster showed pictures of members of the military who have spoken out against the ruling military council.
Abeer Mustafa, 35, mother of five children, one of whom has special needs, came to square by herself on Sunday afternoon. She said she didn't bring any of her family, because she didn't want them to be there if anything turned violent.
She was sitting by herself on a wall next to the Mugamma building, taking in the scene. "By the way, I'm with them [the revolutionaries]," she said.
"I wanted to see what the atmosphere was like here. My brother was here during the violence, he saw friends die on front line. I wanted to see it for myself."
She said she will not vote. "This is not the time for voting, not at all, after the events of last week. The mood is not good."
Mustafa said she is optimistic, though, because she has to be. "Of course what comes next has to be better than what we had before. I hope there will be a government that helps me take care of my son with special needs."
Meanwhile, the chants being shouted out in Tahrir included "They called us thugs while we were being attacked, why were you silent?", "Before we get the martyrs' rights there will be no Eid," and "We are the government and they are the military."
Earlier in the day
On Sunday morning about 60 people continued their sit-in outside the cabinet building, having camped out there overnight.
Ahmed Fathallah, a protester in his early thirties wearing a patch to cover his wounded eye, told Al-Masry Al-Youm he is participating because he wants his civil rights.
He came to Tahrir on Thursday in anticipation of Friday's million-man march, and was wounded by a shotgun pellet on Saturday when police and army forces cleared Tahrir Square, entering, he said, from Mohamed Mahmoud Street and Qasr al-Aini Street.
Fathalla said he doesn't want the parliamentary elections to go ahead, as many of the candidates are remnants of the former regime.
He believes that the new prime minister, Kamal al-Ganzouri, will be dropped just as Essam Sharaf was before him, and that what is needed is a prime minister chosen by the people.
When asked about Mohamed ElBaradei, he said he has no opinion because he doesn't know much about him, but that he would be happy with a national salvation government headed by ElBaradei if the majority of people show support for the idea, through, for example, a popular referendum.
Fathallah said the Muslim Brotherhood betrayed the people by not participating the Tahrir protest, and claimed that yesterday individuals from the Brotherhood were there urging people to go home.
Khaled Abdalla, an actor, was also camped out outside the cabinet, and said he was there to bring down the SCAF and because of the death of protester Ahmed Sorour yesterday, adding Ganzouri will enter the cabinet "over my dead body."
He pointed out that not many people realize that Ganzouri himself brought Habib al-Adly, the much-feared former interior minister, into power in 1997. He said he could not believe that the man who appointed Adly was appointed prime minister a week after protesters were killed by security forces in the street.
Seeing the elections as a farce, he believes in the power of occupation, saying, "Until real elections, this is how we vote."
He said he would accept ElBaradei as leader of a salvation government only if he is given full powers — which Abdalla said is "a big if."
Mohamed Sulieman, a 34-year-old clothing seller from Alexandria, came down this week for the protest and was sitting on the street outside the cabinet because he saw a young man — Sorour — get killed yesterday.
"I am here to reject Ganzouri and the military council," he said. "I will not vote because the elections are not legitimate — the SCAF lost legitimacy the moment it attacked protestors."
"I will stay here until the military council and [Field Marshal Hussein] Tantawi leave. And now we want to march on Maspero. Maybe later today."
He also said, "We're considering ourselves another Palestine."
Moving up toward Tahrir Square, at 10:30 am on Qasr al-Aini Street Al-Masry Al-Youm saw civilians leading away a man they said had caught trying to sell hashish in Tahrir.
At 11 am in Tahrir, around 1000 people were continuing their sit-in.
Mahomed Mahmoud Street, where the worst of the violence happened last week, was now quiet and besides the army-constructed wall, there is a lot of empty space and some groups of people, including some forming a human barricade in case of further clashes.
Mohamed Ibrahim, 29, an accountant, is a key member of the Popular Committee of Mohamed Mahmoud Street. His main aim in being there is to stop the bloodshed, he said, adding that the current situation is not a ceasefire because that suggests a war, but "just an agreement to stop firing at each other."
He said he will not be voting, not because he doesn't believe in the elections, but because he has no idea who to vote for — no one has presented him with a clear platform, no politician has come to Mohamed Mahmoud Street since last week, and so he is disillusioned with political parties.