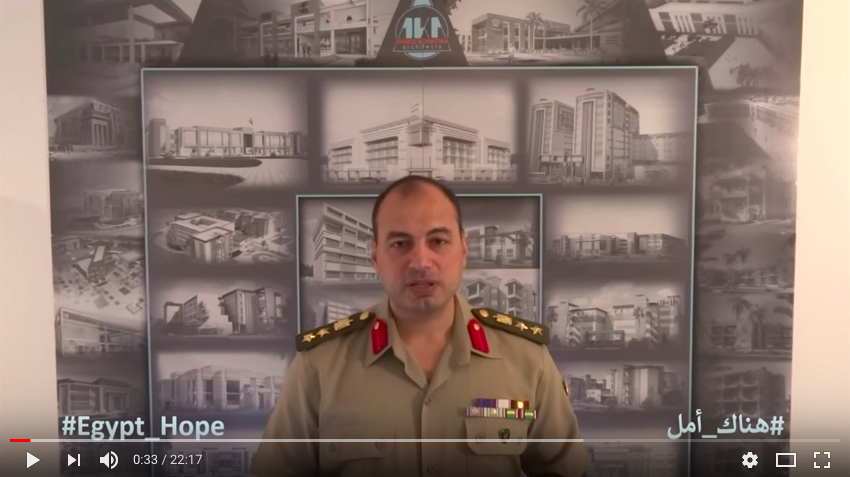 A third candidate emerged on Wednesday for the 2018 Egyptian presidential elections, as 41-year-old colonel Ahmed Konswa announced in a video statement his intention to run, following recent announcements by human rights lawyer, Khalid Ali, and Egypt's former Prime Minister, Ahmed Shafiq.
"I am Colonel Ahmed Konswa, an architect military officer for the Egyptian armed forces," he began, and followed by expressing his faith in Egypt's ability to continue to thrive. "I would like to confirm that the story of justice and freedom is impossible to be ended on the Egyptian soil," he said, in a video statement.
Konswa added that Egypt will never be a failed or divided state, "This is not going to happen at present, and will not happen forever."
"I proudly declare that I seek to unlock the current political deadlock by running for the anticipated Egyptian presidential election, according to its terms and conditions as defined by the Egyptian constitution and relevant laws – in the light of objectives and demands of January 25th and June 30th Revolutions."
Konsowa emphasized that he does not belong to any existing established party, but instead belongs to "the comprehensive mainstream of the Egyptian people."
He further explained how the strength and unity of the nation and its military are not controversial issues for him, but remain his main focus.
"They are definitely my top priorities in such crucial circumstances when the urgent need to defeat the escalating  threat of terrorism is dominating the world, and our region in particular."
He stated that policies which are "inappropriate, counterproductive and outdated" fuel extremism and discontent in Egypt.
Konswa said that following his video statement on Wednesday, he will be announcing his envisioned road-map for the upcoming presidential term "for the sake of equitable, scientifically advanced, independent, and fully sovereign Egypt."
He also posted his personal and professional information on his Facebook account.
Earlier on Wednesday, Egypt's former prime minister Ahmed Shafiq told Reuters that he intends to run for president in the upcoming presidential elections scheduled for April 2018.
Shafik became the second candidate to announce his intention to run for the presidency after human rights lawyer, Khaled Ali, announced he will be competing.
President Abdel Fattah al-Sisi has not yet announced his candidacy for next year's elections. However, he is widely expected to run for a second term.