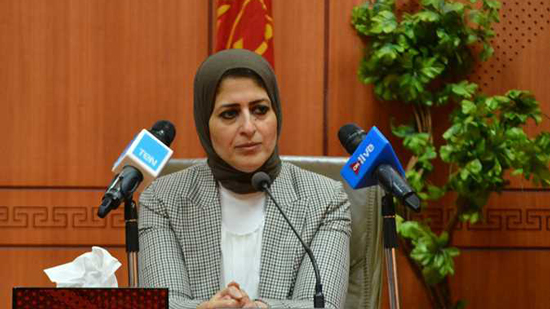 Activists on social media published a video of the Egyptian Minister of Health, Hala Zayed, in her first appearance after her mysterious disappearance following a corruption case involving her ex-husband.
The video revealed a meeting that brought the minister together with the ministry's leaders in an informal session at her home.
There she spoke about  doctors' responsibility towards patients and their role in receiving any sick conditions and treating them as a humanitarian, professional and moral duty, saying: "We will be held accountable before God for every patient."
In October 2021, Zayed submitted a request for an open leave, after she fell ill and had a continuous condition of high blood pressure and the Minister of Higher Education, Khaled Abdel Ghaffar, was assigned to replace her as head of the Health Ministry. 
Backdating to October the minister's ex-husband and four of the ministry's employees were accused in a bribery case.
Investigations into the case revealed that the defendants, including the minister's ex-husband, mediated the reopening of two private hospitals in exchange for a bribe.
Earlier, investigations acquitted Zayed, and confirmed that there were only four accused, including her ex-husband, who used her name to obtain the bribe.
According to the investigations, one of the defendants demanded for himself an amount of LE5 million as a bribe from the owners of a private hospital to prevent the implementation of a decision to close it.