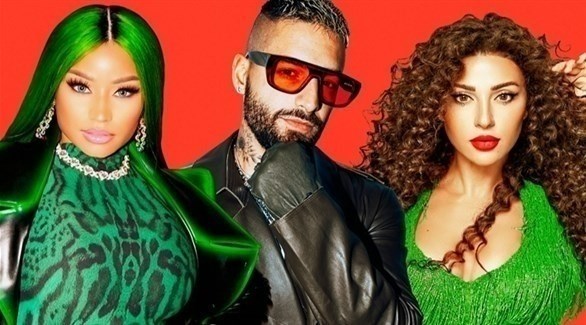 The International Football Association (FIFA) officially on Friday unveiled "Tukoh Taka", an official World Cup anthem featuring Lebanese singer Myriam Fares, America's Nicki Minaj and Colombia's Maluma.
It is the first song for the World Cup that combines English, Spanish and Arabic languages.
The song reached number one on iTunes in the United States, surpassing "Unholy" by Sam Smith and Kim Petras, making it the first World Cup song in history to achieve this position.
The song made a quarter of a million views on YouTube, three hours after its official release.
"I am so happy to be part of this FIFA World Cup anthem!" Maluma said in a press release. "I always dreamt of an opportunity like this. Representing Latin music on this global track alongside amazing artists that sing in English and Arabic, takes our culture to another level."
Fares also expressed her pride in being chosen by Viva and Universal Arabic Music, represented by international producer Wassim Salibi, to perform the song Tukoh Taka.
"I have the honor to participate in composing and distributing this song. I really hope that the song Tukoh Taka will convey the oriental culture and Arabic music to the whole world," she said.
Tukoh Taka was composed by Nicki Minaj, Maluma, Myriam Fares, Scott Summers, Jordo, Discleanves, Gary Walker, LuXe Timeless, Juan Salinas, Monique Fonseca, Oscar Salinas, Roll Antonio, Trevino, Massari, Stephen Cespedes, Wassim Salibi, and arranged by Massari, Gordo and Play-N-Skillz.
Salibi expressed happiness that the song reached the number one position on iTunes US, saying "I woke up to this news. Tukoh TAKA is #1 ITUNES US in less than 12 hours from its release.. The first song in English, Latin and Arabic to achieve this statistic.. Never be afraid to take risks and break down barriers."