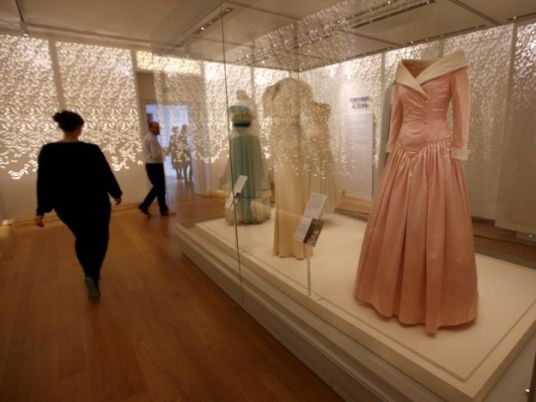 Gowns worn by Princess Diana for everything from meeting diplomats to dancing with movie stars feature in an exhibition celebrating the fashion of one of Britain's favorite royals, which opens in London this week.
The collection of 25 dresses will be displayed from Friday for the rest of the year in Kensington Palace, where she lived for over 15 years. The exhibition coincides with the 20th anniversary of her death.
It features an ink-blue velvet gown worn by Diana when she danced with actor John Travolta at the White House in 1985, as well as her "Elvis" dress – high-collared and encrusted with pearls.
The collection also shows Diana's "understanding of how to deploy fashion as a diplomatic tool," organizers said, including one dress that incorporates the national bird of Saudia Arabia, the falcon.
"Our exhibition explores the story of a young woman who had to quickly learn the rules of royal and diplomatic dressing, who in the process put the spotlight on the British fashion industry and designers," said Eleri Lynn, curator of "Diana: Her Fashion Story".
Diana, mother to Princes William and Harry, was married to heir-to-the-throne Prince Charles between 1981 and 1996 when the couple divorced.
She died in a car crash in Paris in 1997.
Reporting by Alistair Smout; editing by Stephen Addison; Reuters