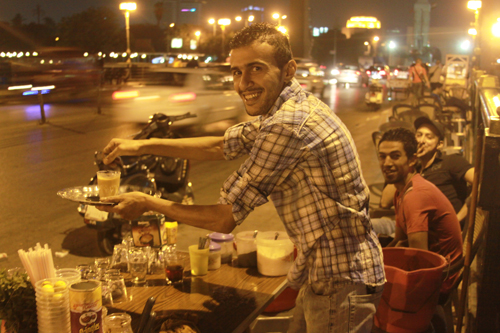 Unless you're floating across the city's bloodline, it is a safe bet that when traveling overland from downtown to the island of Zamalek, you'll cross either the Qasr al-Nil or the 6th of October Bridge. Here, rush hour venerates the daily commute with a steady procession of cars, carriages, lorries and the like. But by nightfall the parallel, steel conduits transform into promenades of makeshift teashops, where a veritable kobri, or bridge, culture has emerged.
Sidewalk cafés known as farshas set against the bridge railings offer tea and tidbits on stackable plastic stools with a view of the Nile. About eight such cafés line the historic Qasr al-Nil, where Yehia, better known as "Fox" to his fellow hawkers, runs one of these pop-up parlors.
"The issue requires two cups of tea, but now I'm working," he tells me, while stirring a hooded, metal cauldron of watery hummus, or chickpea soup.
"I want to talk about so many things, like the life of a youth whose father has only enough to feed his family but he takes money from him anyway, even though he can't pay him back. So he's forced to do anything to get money, doing any job you can imagine, as a delivery man, a carpenter, a blacksmith, a wall painter, a plumber, even dealing drugs and sometimes he becomes addicted to them," says Yehia.
For two months now, the 27-year-old and his business partner, Mohamed, 21, have rented a few meters on the western end of the bridge from a source who manages the space and deals with local authorities, Yehia says.
Since the 25 January revolution and the subsequent ease in the enforcement of civic laws like parking and traffic restrictions, public spaces in Cairo are bustling with black market traders, eliding regulations.
"Ya basha!" says Yehia as he convinces a group of men to sit for tea. But little do they know — for those not schooled in the art of teatime tricks and haggling for Nescafe — that on top of the LE5 for tea, an additional LE3 seating charge per person is tacked onto the bill. Generally, coffee on the bridge goes for LE7 and hummus, LE7.50. But, if you dress up, the prices will match. It's best to inquire before taking a seat.
A few pillars east from Yehia's makeshift café on the middle of the bridge, we sat with brothers Bobos, 27, and Eslam, 20, who, since earlier this year, have served similar fare. Bobos supports his wife and two kids on LE50 a day, while Eslam lives with another worker under the bridge.
"I was born on the bridge. My mother left me here," he says.
Within moments, we managed to get a glimpse of Cairo by night and fell into casual conversations with boys with switchblades tucked at their waists; an imam from Mecca and his brother who descended from their SUV, daubed us with a liquid musk, and reminded us of the pillars of Islam; a 22-year-old woman who for six years has been selling roses against the banks of the Nile while nursing her baby; and hustlers with an impressive fluency in English looking to close a scam. And, as soon as the traffic died down, at around 3 am, a gang of helmet-free adolescents too small for their motorbikes popped wheelies across the bridge's span.
Beyond this curious convergence, pedestrians, families and would-be lovers stroll in a space where safety would normally be of concern. But somehow a palpable contract exists in the form of ego and machismo that maintains a sense of order.
Rami, a 25-year-old soldier on break, chatted us up. He, like many other single men on the bridge, is looking for company and pointed out a girl whom he had once dated and who now ignores his gaze.
As we circled one of the lion statues that bracket the bridge's end, a very familiar scene occurred: the sound of screeching brakes followed by a cringing bumper-to-bumper crash. The crash led to a tug at the chin and swipe from behind the neck. Almost instantly, a crowd formed, holding the aggressor back and assuaging his pride.
"These are how things are settled in Egypt," Rami comments as the drivers return to their cars and carry on.
"There's no security," says Yehia. "This revolution carried several revolutions in Egypt. Martyrs walked on this bridge time after time. So many people died on this bridge protesting humiliation from the government."
To date, the nightly cafes remain intact, with some gussied up by strings of colorful bulbs and shaabi tunes blasting from speakers hooked up to a streetlamp. But recent actions by the government against the informal sector, like last week's clamp down on illegal stalls on Nabi Daniel Street in Alexandria, may be foretelling.
According to Yehia, police officers had detained vendors on the bridge before Ramadan and threatened to shut down their operations. "They gathered us and divided us into groups of three, and they took our watches and wallets," he claims.
"We're not sure if we will go or stay. The government told us that we can work here after Eid al-Fitr but that they will then try to find us jobs. If not, we can maybe stay on the kobri. For now, it's OK," Mohamed says.
But Yehia is doubtful, and jokingly says: "If the government comes, I have fire."
This piece was originally published in Egypt Independent's weekly print edition.