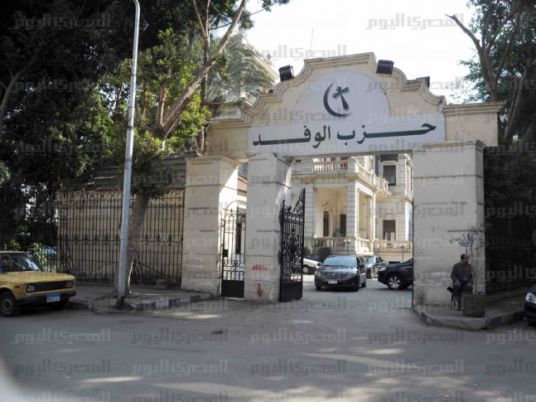 Leaders of Wafd Party sub-committees in different governorates on Saturday criticized the decision of the party chairman al-Sayed al-Badawy to run in the upcoming presidential elections, dubbing his decision as hasty and unstudied.
The Wafd Party said on Friday that Badawy would run for president out of national concern, after President Abdel Fattah al-Sisi was the only runner left in the race. The Supreme Body of the Wafd will vote on Badawy's decision on Saturday.
The move comes just two weeks after the Wafd Party officially endorsed Sisi for a second term as president.
Former Prime Minister Ahmed Shafiq, rights lawyer Khaled Ali, Former MP Mohamed Anwar Sadat, and the former chief of staff of the Armed Forces Sami Anan, have either pulled out of their bid or been disqualified.
In Port Said, Badawy's candidacy for the presidential elections caused a state of anger among the leaders and members of the Wafd Party.
Mohamed Gad, head of a committee of the Wafd in the governorate, said that in response to the anger of the party members, the committee issued a statement criticizing his candidacy as a trial to save face and play a role inappropriate for Egypt's oldest 100-year-old party.
He added: The candidacy must be announced and prepared months before announcing according to the party's bylaws and not by the decision of the moment if we want a real competition and a political program.
In Kafr El-Sheikh, Ahmed Younis, a party member and former member of the party's Supreme Body, criticized Badawy's candidacy, which will lead to political confusion. He said that he will vote for President Sisi, especially since the party has already announced its support for Sisi.
"In my opinion, Badawy is not fit to be president of Egypt. He did not succeed in running the affairs of the party, how will he succeed in managing a country as big as the size of Egypt?" Younis wondered.
The head of the General Committee of Wafd Party in Alexandria, Hosni Hafez, said that Badawy's candidacy for the elections put the party members in a big dilemma. "Unfortunately there is a state of confusion, instability in the decision making within the party," he said.
In Suez, Ali Amin, the head of Wafd committee, stressed the refusal of all members to the party to nomination of Badawy, explaining that it harms the party and its credibility and makes it a fragile party.
Edited translation from Al-Masry Al-Youm