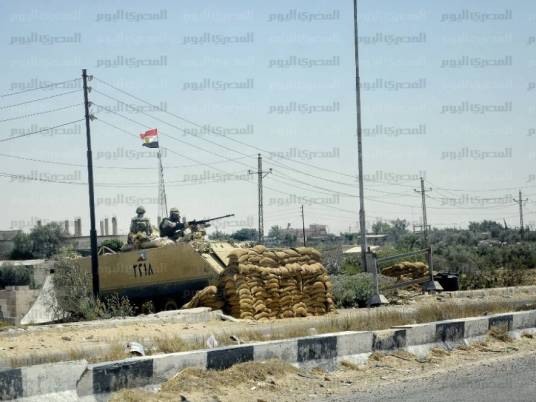 The international press is reporting on the large-scale military operation in the Sinai that the Egyptian army has been carrying out since Friday to eliminate terrorism, calling it the largest military operation ahead of presidential elections, set for March.
President Abdel Fattah al-Sisi deployed the largest army in Africa fighting jihadists in North Sinai and the Delta, and launched the largest anti-terrorism operation in Egypt a month and a half before he most likely will be re-elected to a second term in office, The Times newspaper reported.
A number of international newspapers see the timing of the military operation, which coincides with the upcoming electoral process, as having clear implications.
The Australian television network ABC said that the election of President Sisi in 2014 came on promises to restore security and fight terrorism.
The US Strategic Analysis website Stratfor described the timing of the operation as "political intelligence" as the presidential election begins in March, leaving only a few weeks ahead of the three-month deadline to eliminate terrorism in Sinai, which President Sisi promised in a speech in November 2017.
The site pointed out that the operation targets areas that combine urban communities, the Western Desert, Delta, and North and South Sinai, all of which suffer to varying degrees from different types of terrorist threats.
The website stressed that Egypt will need to use various strategies and tactics if it hopes to achieve success in these areas.
The report said that there are hints that Egypt would deploy anti-terrorist units such as Unit 888, along with the army for the first time, to demonstrate that it could prove successful.
It stressed that Egypt is facing challenges against various armed groups, such as al-Qaeda-affiliated groups in the Western Desert, active anti-government groups in urban areas such as the Hassm movement in the Nile Delta region and the Islamic State in the Sinai Peninsula.
Egypt's presidential elections are scheduled for March 26-28 and will see just two candidates compete for the presidency, namely,  incumbent President Abdel Fattah al-Sisi and Ghad party head Mousa Mostafa Mousa after a host of presidential hopefuls either were disqualified or dropped out from the race.
Edited translation from Al-Masry Al-Youm