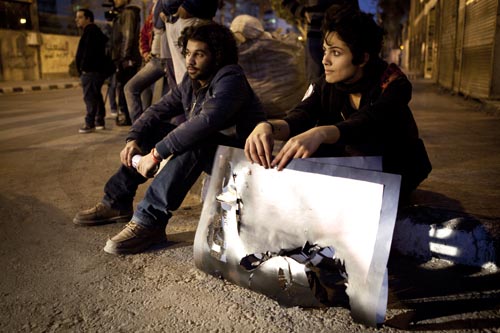 A march for hundreds of women arrived at Tahrir Square, the birthplace of the Egyptian revolution that toppled former President Hosni Mubarak in February 2011, to protest against the increasing incidents of sexual harassment.
The protesters chanted slogans such as "down with the Guide's rule," referring to the Supreme Guide of the Muslim Brotherhood Mohamed Badie, and "civil, civil, we won't let it be Brotherhoodized."
Protesters started gathering in Sayeda Zeinab Square Wednesday afternoon to start the march, which was called for by six political parties and several NGOs to denounce sexual violence against women, particularly when participating in political demonstrations.
Organizers issued a statement saying that Egyptian women will do their duty toward the nation and continue a long legacy of women's struggle.
The statement was signed by the Egyptian Social Democratic Party, the Popular Socialist Alliance Party, the Dostour Party, the Egyptian Socialist Party, the Egypt Freedom Party and the Free Egyptians Party, as well as many public figures.
Additionally, a number of NGOs signed the statement, including the New Woman Foundation Center, Al-Nadeem Center for Rehabilitation of Victims of violence, the Egyptian Initiative for Personal Rights, and the "Shoft Taharrosh" (I've seen harassment) campaign.
Dozens of women have been assaulted near Tahrir Square and surrounding areas over the last few weeks amid nationwide protests sparked by the second anniversary of the Egyptian uprising.
Edited translation from MENA