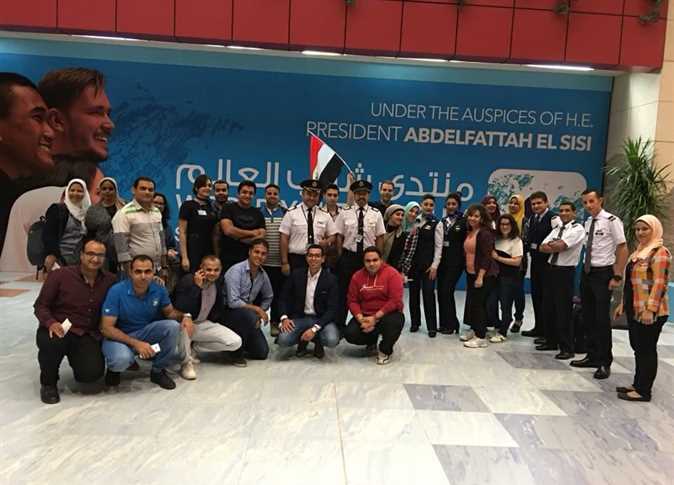 The World Youth Forum (WYF) will kick off at the resort city of Sharm el-Shaikh on Sunday with the participation of 3,200 participants from 113 different countries, along with Egypt President Abdel Fattah al-Sisi, heads of states, princes, and high officials from different countries, presidential sources told al-Masry al-Youm.
The sources added that among the participants are 309 Egyptian youth who registered on the website of the forum, 150 Egyptian youth living abroad, 85 high achieving students in Egyptian universities, and 107 from private universities.
The sources added that a presidential delegation inspected the large conference hall in the city, and the headquarters of the opening ceremony of the forum in Nabq Bay to check the final preparations.
In terms of securing the events of WYF, the perimeter of the conference center, Sharm el-Sheikh airport, and city hotels witnessed tightened security measures. Security services along with the armed forces have put in place an immediate intervention plan to secure the conference.
Security sources said Interior Minister Magdi Abdel Ghaffar held several meetings with senior security officials to review the security plan, which includes the deployment of more than 2,000 police officers and recruits to tighten the inspection procedures at the border points between Sharm el-Sheikh and all the roads leading to it from different cities.
WYF program consists of four themes: Global Youth Issues, which includes discussions on terrorism issues, the role of youth in confronting them, the problem of climate change, irregular migration and refugees.
The second theme focuses on Sustainable Development, Technology and Entrepreneurship, reviews international experiences in achieving sustainable development goals, and presents innovative youth experiences in entrepreneurship, while discussing the impact of technology on the reality of young people.
The third is about civilizations and cultures. It includes subjects related to arts and literature, cultural identity, how to integrate civilizations and cultures, and to benefit from their diversity and the role of literature and arts in fixing the damages of conflicts and wars.
The fourth theme is titled Making Future Leaders, which will review the major international experiences in the rehabilitation and training of young people and the role of countries and societies in the industry of future leaders.
Edited Translation from Al-Masry Al-Youm