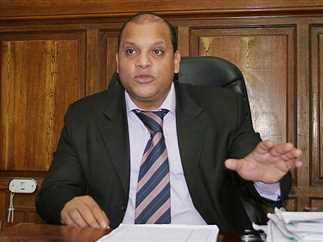 A would-be candidate in the upcoming Egyptian presidential elections, Ahmed al-Fadali, the head of the Democratic Peace Party and head of the independence Current, sent a message to Egyptian President Abdel Fattah al-Sisi.
During a phone interview with TV host Amr Adib in his talkshow "al-Hekaya" (The Story) on MBC Masr channel, Fadali said,"I would like to tell Mr. President, since you have spent two presidential terms in which you have done your best, it is also democracy that there is deliberation of power. It stipulates the necessity of alternating power, and the need for a kind of change because change is the norm of life. Article 5 of the constitution stipulates the necessity of alternating power."
He added that for him, "The most important thing I would like to change is to make the Egyptian people not feel the poverty that we suffer. To make the Egyptians able to spend and buy their needs of food, to be able to protect the themselves against diseases, and to be able to provide for the costs of their treatment, I would like the Egyptian people to get out of the severe economic crisis".
Fadali commented on some describing the candidacy of Sisi's competitors for the presidential elections as nothing more than a "play," saying: "Those who say that are terrorist groups… They have spread rumors against me, even though I am a graduate of Al-Azhar University and Secretary-General of Al-Azhar University for six years… Imagine that this effort and this science is being accused of inferior matters."
Regarding the existence of studies to achieve his desired economic goals, Fadali explained, "I am looking for the interest of my country and not looking for gains. My colleagues and I aim to change the painful economic reality in which Egypt is living."
He explained that his party has experts working to develop what he described as a "actual national program" to get the country out of its economic, health, educational and judicial crises.
Fadali added, "We want the Egyptian people to go out, speak and participate. We do not want them to go out with a revolution, but we want them to go out and participate strongly. We want elections in which lines of people participate."
"We want the Egyptian people to have strength in presenting their views… We do not want prosecutions for those who practice politics so that Egypt can rise. There is never an economy that will grow strongly unless there is a solid policy. We seek economic stability, and that requires political stability," he concluded.
Egyptian presidential elections 2024
Article 140 of the constitution stipulates that the Egyptian presidential election procedures must begin at least 120 days before the end of the presidential term, and the results must be announced at least 30 days before the end of this period.
Lawyer Tarek al-Awadi said that the last presidential elections were in 2018 and their results were announced on April 2, 2018, and this necessarily entails that the procedures for the next presidential elections begin at the end of this year in accordance with the constitution and the law.
Awadi clarified that the matter is not holding early presidential elections, as some claim, and this is the entitlements of the constitution, not a personal viewpoint.