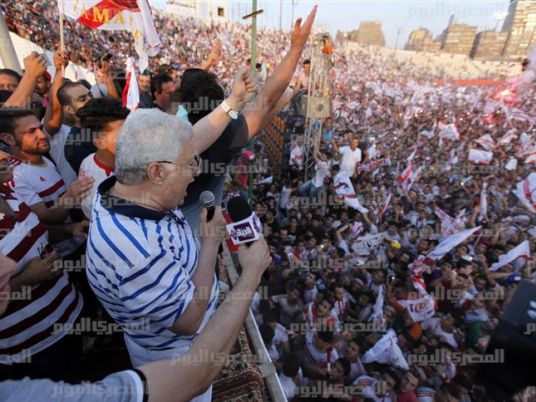 Hardcore fans of the Zamalek Sports Club football team have still not returned from Tunisia following an international game there, leading some to believe they fear calls by the club's president to arrest them upon arrival in the country, airport sources said.
Mortada Mansour has accused members from the Ultras White Knights (UWK) of insulting him, as well as Egyptian authorities, during the African Confederation Cup game on Sunday against Club Sportif Sfaxien, which Zamalek won 3-1.
Mansour, speaking to the satellite TV channel al-Hayat 2 late Monday, said the fans would be arrested upon their arrival at Cairo International Airport, adding that al-Hayat's sports reporter, Mohib Abdel Hady, was the one who tipped him off about the names of the people who had insulted him.
"He informed me about the fans who attended the game and the offensive slogans against Egypt's police and army. I now have their names and all are wanted," Mansour said.
"The names of those who insulted President al-Sisi, the army and police are now with airport security who are waiting for their return," Mansour told the channel.
Mansour's son, Ahmed, a board member at the club, also accused the fans of insulting his father and Egyptian authorities. He told satellite TV channel al-Nahar on Monday that reporters accompanying the team on its trip supported stories about derogatory slogans chanted by the fans during the game.
The UWK group and Mansour have been at loggerheads as the club's chief has often accused the group of hooliganism.
In August 2014, Mansour, a former court president and an influential lawyer known for his belligerent media rhetoric, accused the UWKs of attempting to shoot and kill him outside the club.
The UWKs, meanwhile, accuse Mansour of complicity with the police in the death of 22 fans in a stampede outside the Air Defense Stadium in Cairo during a premier league match in February.
Edited translation from Al-Masry Al-Youm