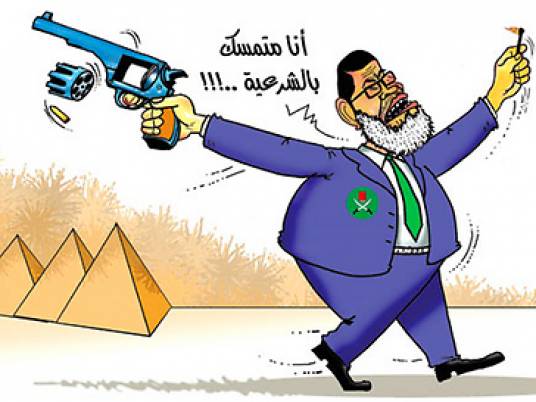 The Arab Spring in 2011 was a hurricane of political change across the region and its aftermath continues to be felt by millions, including in war-torn Syria.
Hundreds of thousands of Syrians displaced from their homeland have migrated to Europe and elsewhere, including other nations in the Middle East. Certainly, many have come to Egypt, setting up new – if temporary – lives here, and bringing various aspects of their culture with them.
One expression of this is the growing number of Syrian-style restaurants and food vendors across Cairo and several other cities. You can't go to any neighborhood in Cairo now without spotting a Syrian restaurant, or at the very least a Syrian kebab joint.
For any diaspora, food is one element of culture that can recreated in a new setting, bringing with it memories of home, helping to preserve the sense of a distinct cultural identify. In some cases, it also translates into a viable business opportunity, providing much needed incomes for refugees as they struggle to adapt.
All of which is illustrated by a group of Syrian refugee women living in Al-Obour City on the edge of Cairo, where large numbers of Syrians displaced by the ongoing war have now settled. The women have founded a catering service that continues their Syrian food heritage, providing a genuine taste of home that is several notches above the average kebab shop.
"Zeit Zeitoun" takes its name from that essential component of Levantine cuisine: olive oil. The company says it provides Syrian cuisine made by Syrian cooks of the highest calibre, while maintaining very high standards of hygiene. The recipes are entirely traditional, handed down from generation to generation of Syrian women. Those preparing the meals are refugees keen to keep at least one aspect of their culture alive amid the chaos and loss of the Arab Spring diaspora.
Zeit Zeitoun currently operates mostly as a catering company, providing meals for weddings, embassies and business events. However, the company is also venturing into the general home-delivery market, although it does not accept orders below LE400. If things continue to go well, there will some day be a restaurant.
Source of inspiration
The brains behind the operation is humanitarian worker and Cairo resident Tamara al-Rifai. Her vision is what made Zeit Zeitoun what it is today: a professional catering service with a business-oriented mindset.
The original inspiration came when she visited the Syrian refugee community in Al-Obour City on the Eastern outskirts of Cairo. It has been said that you cannot bring two Syrians together without the topic of food creeping its way into the conversation. This is precisely what happened during Rifai's visit to the refugee community in Al-Obour. She met people, shared stories and started to compare recipes.
Each woman seemed to have a slightly different recipe: a little more salt here, a little more thyme there. These were recipes that had been passed down from generation to generation, little pieces of the homes they have left behind, each with the personal touch of home and family. Every recipe brought a little fragment of Syria back to these women.

Syrian fattah, consisting of rice, crispy bread and meat, generally served with a yogurt or spiced tomato sauce.
An accomplished cook herself, Rifai had worked on projects supporting refugees in many countries, and she had seen how important food is to cultural identity. She knew the power of food to bring forth memories of home, memories steeped in affection and nostaligia. She also knew a good business opportunity when she saw one – an opportunity with the potential to support many Syrian refugees.
Recruiting her mother and one of her mother's friends, Rifai set about building a business model, sketching out the start-up costs and sources of raw materials, She raised the money for catering equipment through her friends and contacts in Cairo, who were more than willing to help.
Then there was the food itself, which Rifai said had to be standardized in order to provide meals of reliable taste and quality. After all, two people can cook the same dish and have it turn out differently each time, due to subtle differences in ingredients and technique. If Rifai was to achieve her goal, she'd have to eliminate this element of unpredictabliity. They also needed to ensure that their cooks were experienced and well trained, able to provide dishes of reliable quality on a daily basis.
Leading the team
Six women were trained in cooking the dishes according to Rifai's standards, among them Lina Kassah, who is now acting manager of Zeit Zeitoun. In Damascus, Kassah worked as a public relations manager. Here in Cairo, she divides her time between the catering firm and her main job as a manager at Souriyat Association, an NGO that helps Syrian women intergrate into their new environment.
Kassah is responsible for the daily operations, ensuring hygiene standards are maintained and all dishes are up to scratch. Each of the cooks is responsible for a particular dish, which ensures a degree of uniformity and expertise.
"One of us will make the kibbeh, one of us will make the fatayer and so on," says Kassah.

Flat Kibbeh, made of bulgur, minced onions and finely ground lean meat with spices.
More women are called in to help if a big order comes in, which happens often. There are always additional staff on standby, says Kassah. The additional source of income is certainly welcome.
"Most of the Syrian women around me came here without their husbands. They are now burdened with having to provide for their children and in some cases extended families," she says.
Currently, the cooks work only three days a week, which means they can't yet provide a full-time home-delivery service, and all orders have to be sent out from Al-Obour City, which is far from the city center. However, their catering orders are growing fast, which means they often work more than three days. Eventually, the business should be a full-time operation, and there are plans for a restaurant at some point.
"The project is small now, there are only five women working under me. But in the future we could make it a restaurant and then 20 or 30 women could also work and support 20 or 30 families," says Kassah.
Building a reputation
Zeit Zeitoun is fast building its reputation in Cairo, based largely around the low-key presentation of an authentic food offering. The Facebook page modestly promises a good, clean service, saying, "This is the kind of food you would get if you visited a home in Damascus, Aleppo, Homs or Lattakia, where food is at the centre of social relations."
Kassah explains that the food is not meant to be fancy-looking, like that on offer in many restaurants. Rather, she says, it's down to earth food that your mother or grandmother might make.

Ouzi, consisting of rice, meat, vegetables and nuts baked in a light pastry parcel.
Based on the feedback from customers so far, it seems Zeit Zeitoun won't have too much trouble achieving the expansion goals.
"We're lucky, because Egyptians love Syrian food so much. Most of our customers are Egyptian and most of them come back," says Kassah.
The key is authenticity, a welcome value among the profusion of "fusion" outlets and modern/Western variations on ethnic cuisines. A look at what American culture has done to Japanese and Chinese food illustrates the point amply. For customers seeking something authentically Syrian, Zeit Zeitoun is a reassuring addition to the mix.
The Facebook page also displays some enticing images of what's on offer, including: kibbeh, frikkeh, kabab halabi, shish barak, ouzi (rice, pulled meat and peas in dough), and heaps upon heaps of baked goodness.
Zeit Zeitoun presents itself as a product of the refugee community. But it manages to do so without seeking a sympathy vote. Rather, it proudly offers quality food that reflects Syria's fine culinary heritage. And this commitment to quality is responsible for the growing fan base.
At the same time, those ordering from Zeit Zeitoun are no doubt aware that their money is going to a good cause: helping to support a refugee community that has – for the moment at least – lost everything, and that is working hard to build a liveable future.
"This project truly was our saving grace," says Kassah. "It gave us a way to support our families and loved ones, and it gave us a way to keep our Damascene heritage alive."