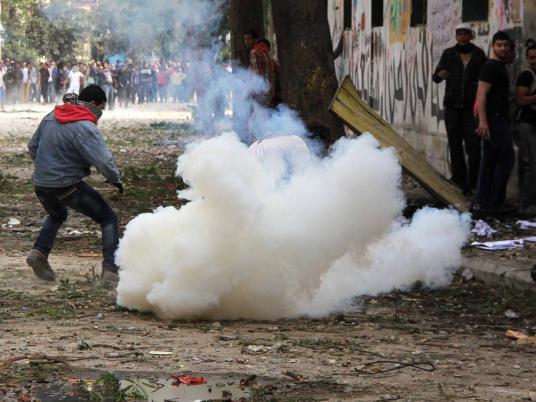 Security forces have arrested 267 people as of Sunday morning in connection with the clashes between protesters and security personnel in the area surrounding Mohamed Mahmoud Street, the Interior Ministry said.
The ministry also claimed that 164 policemen have been injured in the fighting.
The clashes broke out Monday as activists marked the anniversary of the November 2011 Mohamed Mahmoud Street clashes, when over 40 demonstrators were killed after police violently dispersed a sit-in at Tahrir Square.
Clashes intensified after President Mohamed Morsy on Thursday dismissed the prosecutor general and released a constitutional declaration granting himself wide-ranging powers.
The ministry announced in a statement issued on Sunday the arrest of eight protestors, who it called "rioters," bringing the total number of demonstrators arrested to 267.
The statement added that 36 policemen were injured during fighting on Qasr al-Aini Street on Saturday night.
Additionally, the ministry's newly-established human rights sector issued a call to all public and political figures, human rights activists, civil society organizations and religious figures, seeking communication with them and help with resolving the ongoing political conflict.
Edited translation from Al-Masry Al-Youm