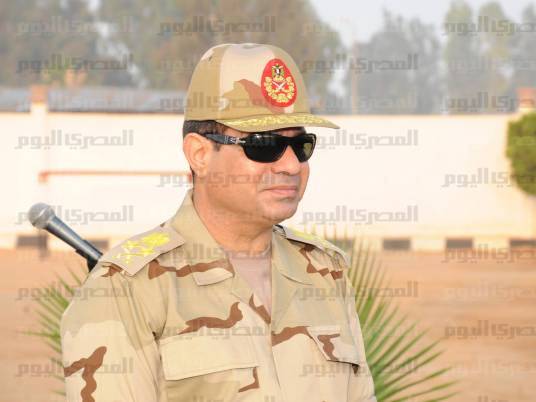 Defense Minister Abdel Fattah al-Sisi on Tuesday emphasized that the Egyptian army is patriotic and apologised to the people of Sinai for any inconveniences experienced as a result of army operations there.
In his speech to armed forces and police officers at the "Leaders and Acts of Heroism" forum, Sisi addressed the Egyptian people: "Mark my words, Egyptians, it is you who bring rulers – and it is true that you remove them."
"We have never and will never fight God," he added, saluting officers present.
Sisi also thanked Sinai's residents for their patriotic role, adding: "We undertake procedures that may be inconveniencing them and we promise to compensate them for [damaged] land or buildings that collapsed."
"They assert their patriotism and their keenness to cooperate," the army chief continued. "Those are the same people who were with us in 1967, 1968 and 1969. I will not forget what they are doing now."
He also praised the residents of Dabaa and Marsa Matrouh for handing over land in Dabaa, which contained a would-be nuclear project started during the Mubarak era, describing the handover as "gallant."
Edited translation from Al-Masry Al-Youm