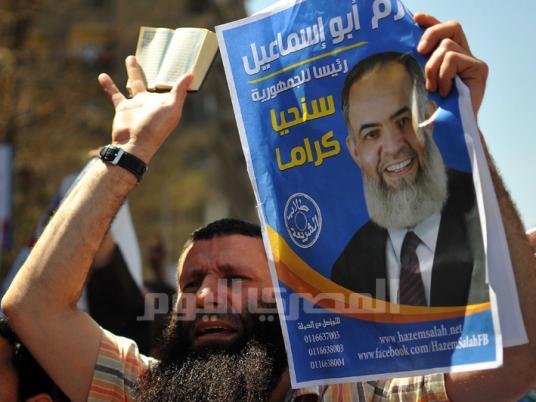 Presidential hopefuls and politicians criticized protests by supporters of Hazem Salah Abu Ismail against his disqualification from the presidential race.
Presidential candidate and MP Abul Ezz al-Hariry of the Socialist Popular Alliance Party called protesting for an excluded candidate an "unnatural situation."
The use of force by presidential candidates and their supporters proves they are not suitable for the position, Hariry said.
"The country cannot be run by force," he said.
State-run news agency MENA quoted Hariri on Tuesday as saying that using force against the Presidential Elections Commission is a challenge against the power of the state, the constitution and the judiciary.
MENA also quoted presidential hopeful and former Prime Minister Ahmed Shafiq as saying in a public rally in Beheira on Tuesday that threatening to stage a sit-in in front of the commission is unacceptable.
Shafiq emphasized the need to respect the commission's decision to disqualify 10 candidates. After an initial ruling Saturday, their appeals were rejected by the panel on Tuesday, making the decision final.
"The commission summoned representatives of the candidates to inform them about the reasons behind the exclusions. There couldn't be any kind of fabrication," Shafiq said.
The commission disqualified Abu Ismail because of documents it says prove that his mother, Nawal Abdel Aziz Nour, held US citizenship. Abu Ismail says the documents — voter registration and passport applications — are fake and that his mother only held a green card.
Hundreds of his supporters staged a sit-in Tuesday outside commission headquarters in Heliopolis and also in downtown Cairo.
"This is the law. We should respect it. None of the disqualified candidates or their supporters should resort to violence," said Tagammu Party Secretary General Sayed Abdel Aal.
The party's warnings against threats of force follow Abu Ismail's comments Tuesday that his exclusion from the race would prompt an Islamic revolution.
According to the state-run Al-Ahram newspaper, the liberal Tagammu Party said in a statement that Islamists' main target is to establish a bloody religious dictatorship: "They are threatening despite being excluded according to the law. What are they going to do with us and the country when they have control over weapons?"
The statement also called on Egyptians to unite and face those who seek to destroy the country and create chaos.