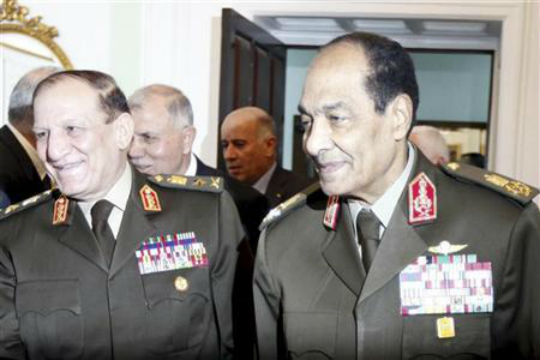 Shura Council speaker Ahmed Fahmy, the head of the Supreme Press Council, decided on Wednesday to replace Al-Gomhurriya Chief Editor Gamal Abdel Rahim after the paper published false reports on Wednesday that former military council leaders Hussein Tantawi and Sami Anan were banned from leaving the country.
Fahmy appointed Abdel Azim al-Bably acting editor-in-chief until the next council session, which would discuss the matter.
Al-Gomhurriya had published on its front page that Tantawi and Anan are not allowed to travel outside Egypt. A judicial source had earlier denied that travel bans are in place for the two former military leaders.
An official military source told state TV's website that the Armed Forces are deeply dissatisfied over the story and consider it a great insult to the leaders and symbols of the Armed Forces.
"The men of the Armed Forces demand that the media exercise precision and caution in dealing with stories about the military, lest they negatively impact Egyptian national security," the source said.
Abdel Rahim said that he was dismissed for publishing news that Tantawi and Anan would be banned from travel within hours for charges of illicit gain, not that they were already banned.
"We were going to retract it the next day," he added. "And I referred the editor of the news to investigation."
"Even Mubarak did not do something like this," he told Al Jazeera Mubasher Misr, adding that a previous ruling of the Supreme Constitutional Court absolved a chief editor of responsibility for what is published in a newspaper. "The Brotherhood knows nothing about freedom of the press," he said.
He said the group is settling political scores with him for writing a series of articles under the title "Renegade from the Brotherhood's Mantle," were meant to convey that he would be independent from the group if they chose him for the post.
"I work for a government newspaper that is owned by the Egyptian people and not Mohamed Morsy," he said. "And I was appointed by election."
The Journalists Syndicate is holding an emergency meeting to discuss the issue.
Edited translation from Al-Masry Al-Youm