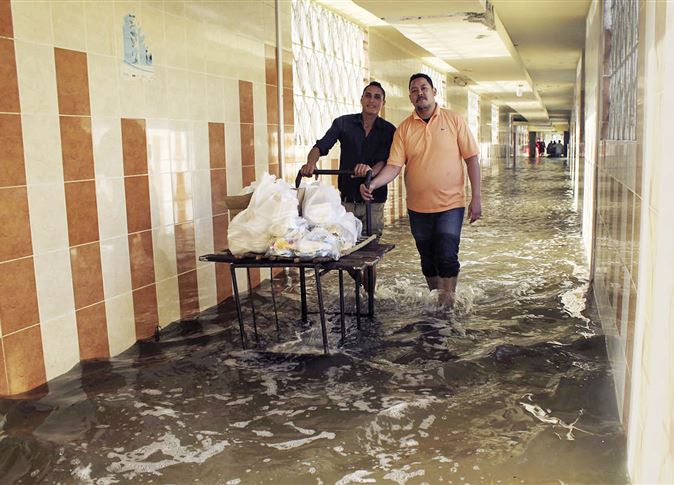 Mohamed Hassan, a worker at the Maamoura Psychiatric Hospital in Alexandria, used to move patients on wheelchairs between the sections of the hospital. But he is no longer able to do so, as the hospital was flooded with wastewater from the nearby sewage treatment station on Wednesday.
Management had to evacuate the hospital after the water level rose to 30 centimeters above the ground, according to Dr. Mohamed Zohdy, the hospital director, and Dr. Magdy Hegazy, the undersecretary of the Health Ministry.
The hospital, which was founded in 1968, is the largest psychiatric hospital in Alexandria. It also receives patients from other provinces near Alexandria, such as Beheira, Kafr El-Sheikh, Marsa Matrouh and Gharbiya.
Marina Jacob, a resident doctor at the hospital, said the design of the building is horizontal, which is why it is easily flooded with rain and wastewater.
"We had to move the patients to upper floors when the ground floor was completely flooded," she said.
She said the intensive care unit, the offices of the administration and eight sections were completely flooded. "Drugs worth up to LE800,000 were all damaged," she said. "So were the archives of the patients' files, which we depend on for diagnosis and treatment."
"We are no longer able to admit patients to the clinics. This specifically affects patients who come for periodical treatment," she said, adding that patients will now have to go to other hospitals that are located two hours away.
"Some patients come here to buy subsidized medicine because they cannot afford market prices," she added. "We can no longer render this service."
Dr. Mohamed Adel said the sewage increases the possibility of infections, especially for skin diseases.
"We asked the authorities to remove the water but they failed," he added. "They tried for seven hours."
"There are patients who were transferred to us from prisons," Dr. Jacob said. "We called the prisons to take them back."
Edited translation from Al-Masry Al-Youm