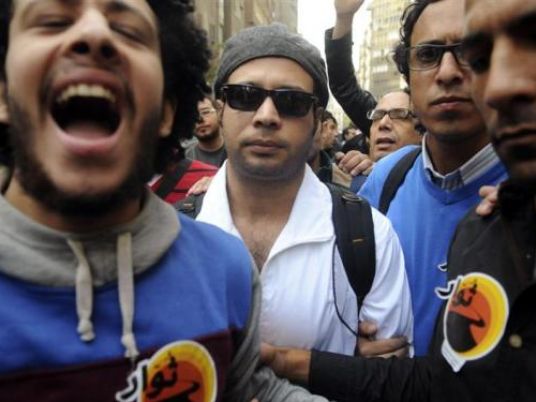 April 6 Youth Movement said founder Ahmed Maher, member Mohamed Adel and political activist Ahmed Doma are again on hunger strike against the harsh conditions of their detention in Tora Prison.
Mohammed Mustafa, a member of the April 6 Political Bureau, said in a statement on Wednesday that while the court is considering an appeal filed by the three activists, it is intransigent about them being in prison.
He based his words on a statement issued by the family of activist Alaa Abdel-Fattah after visiting him. Fattah was imprisoned on charges in the same case: breaking the protest law on public assembly. The statement said Doma has been moved to disciplinary cell.
Mostafa said that April 6 has started escalating its activities and is preparing for a protest on the third anniversary of the 25 January revolution calling for the correction of the country's path after the mismanagement of the transitional period.
The 6 April Movement has also announced on Tuesday its intention to boycott the constitutional referendum scheduled for 14 and 15 January, after threatening to withdraw from the roadmap talks, following the imprisonment of its founder Ahmed Maher.
Abdeen Court has adjourned the appeal submitted by Doma, Maher and Adel, against the decision sentencing them to three years in jail and a fine of LE50,000 each, on charges of violating the protest law last November.
The appeal was postponed due to Morsy's trial on Wednesday. The date of the next court session has not yet been determined.
Edited translation from Al-Masry Al-Youm