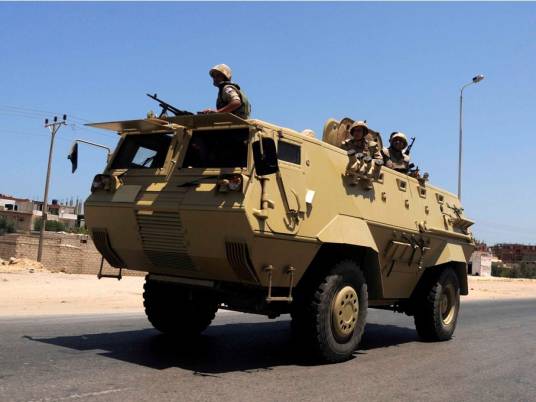 Egyptian Armed Forces continued its operations in the restive Sinai Peninsula against extremist groups suspected for orchestrating a series of bloody attacks on security forces since the ouster of Mohamed Morsy in July.
Security sources said the army waged an attack on Monday at Central Sinai, managing to demolish a terrorist haven suspected as a launching pad for attacks against the forces.
Al-Masry Al-Youm detected unprecedented activity by police forces in Arish, North Sinai. Patrols moved across the city and fired intermittant warning shots.
The sources added that checkpoints had been erected at several areas of the city, and that a number of homes were raided in search for suspects.
Ansar Bayt al-Maqdes, an extremist group that had announced responsibility for a number of attacks against security forces, as well as an attempted assassination of Egypt's interior minister, admitted losses resulting from army operations.
In a statement posted by some Jihadi websites, the group confirmed the "army's success in liquidating three of our members."
It named three fighters killed during army operations on Saturday in Sheikh Zuwayed: Ahmed (Abu Ali) Nasir, Ismail (Abu Marwan) Hammadin and Khaled Tayyab al-Qadiry. It explained that those killed were chief cadres responsible for recruitment and training.
The security sources said Sinai's eastern region has been cleared of by about 80 percent of armed militants, adding that terrorist elements have started to flee to provinces at the Nile Delta region.
The sources added that activities at underground border tunnels between Egypt and the Palestinian Gaza Strip have completely come to a halt, falling under the army's full control.
Edited translation from Al-Masry Al-Youm