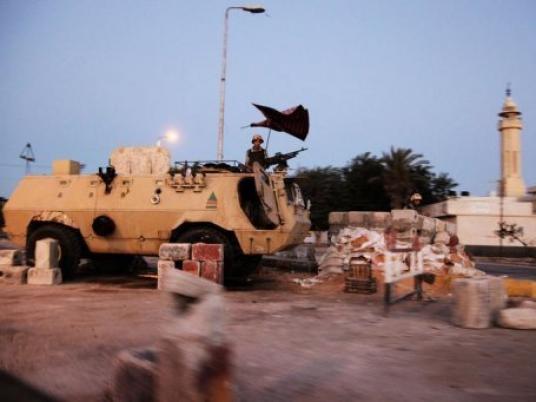 The Armed Forces have been deployed in Cairo, Giza, Suez, Ismailia and Port Said, as per the request of the Interior Ministry.
Speaking under condition of anonymity, military sources told Al-Masry Al-Youm that the army sent armored vehicles and tanks to secure vital governorates and main roads against violent actions.
Army vehicles are currently stationed on the Cario-Assiut Western Desert Road and major roads leading to Sinai, Aswan and Marsa Matrouh, the sources said.
The Armed Forces would not interfere in any protests commemorating the anniversary of the revolution, the sources insisted.
Ahmed Mohamed Ali, Armed Forces spokesperson, said the move was a "precautious procedure," adding that the deployed units are merely "symbolic" and that the soldiers are "not authorized to interact with civilians."
The troops were deployed after the Interior Ministry asked for help in securing protests across the nation, appealing to political forces and revolutionary groups to help as well.
The ministry issued a statement saying that its forces had come under attack on Friday at the intersection of Sheikh Rehan Street and Qasr al-Aini Street, accusing protesters of hurling stones at Central Security Forces there.
Security forces responded to the attacks as instructed, exercising self-restraint and firing tear gas occasionally to push protesters back from the state's vital institutions, the statement asserted.
The attacks have injured several police officers as well as civilians, the ministry claimed. It continued that since the 25 January revolution, the Interior Ministry was committed to safeguarding the security of all citizens and protecting the freedom of peaceful marches and demonstrations.
Edited translation from Al-Masry Al-Youm