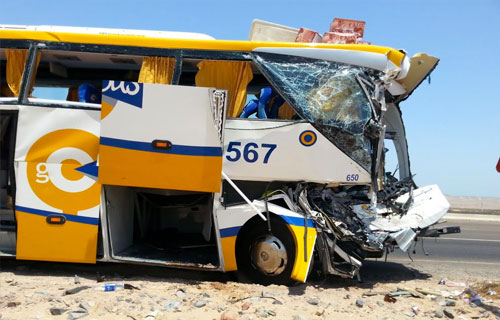 General Roads and Bridges Authority Adel Turk said on Monday that the license for bus company 'Go Bus' has been suspended, after one of their buses hit a truck, killing six passengers and injuring 20 others. The accident occurred near the town of al-Alamein, on Egypt's Mediterranean coast.
Turk said in televised statement on Dream TV channel that there will be suspension of the company's trips from Cairo to al-Alamein, noting that this was a measure taken by the authority in order to allow time for investigation of the safety standards followed at the company.
"I will start in spreading police members on the Cairo-al-Alamein road to follow up on the presence of the suspension imposed on the company's trips through this line , moreover I will co-ordinate with Transportation police authority to apply the suspension" Turk asserted.
He added that his authority is assigned to release and revoke licenses to all transportation companies, both private and public.
The'Go Bus' company did not respond to Egypt Independent's request for verification of the suspension.