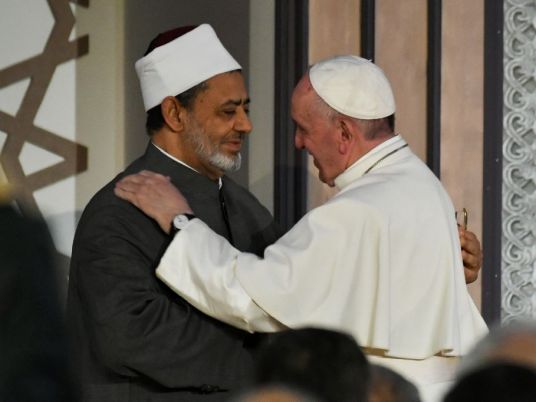 Grand Imam of al-Azhar Ahmad al-Tayyeb will head to Abu Dhabi on Sunday to hold a historic inter-faith summit with Pope Francis, one of various events to occur during the joint visit by Tayyeb and Pope Francis to the UAE, which declared 2019 the year of tolerance.
According to a statement on Saturday, Tayyeb's visit comes upon an official invitation from Sheikh Mohamed bin Zayed al-Nahyan, Crown Prince of Abu Dhabi, delivered to the Azhar Grand Sheikh by Sheikh Abdullah bin Zayed, the UAE's Minister of Foreign Affairs and International Cooperation, during their meeting at Azhar Sheikhdom in December.
This joint visit by the Azhar Grand Sheikh and Vatican Pope is of an unprecedented interest to both the Arab and international world, as it marks the first visit by a Vatican pope to the Arabian Peninsula.
It also reflects the status of Azhar and its grand imam as the largest religious authority in the Sunni Islamic world and as the most expressive institution of Islam and its moderate teachings.
On the sidelines of the joint visit, an international conference titled "Human Fraternity Meeting" will be held on February 3 and 4 featuring the participation of leading religious and intellectual leaders from around the world.
This conference reflects the pivotal role of the UAE in supporting the values of tolerance, dialogue and peace. Dozens of nationalities, races and religions live together in the country, upholding the values of co-existence.
"We warmly welcome you Holy Father, Pope Francis and look forward to the historic Human Fraternity Meeting between you and His Eminence Dr Ahmad Al Tayyeb, Grand Imam of Al Azhar Al Sharif, in Abu Dhabi. We are hopeful that generations to come will prosper in peace and security" tweeted the Crown Prince of Abu Dhabi Zayed al-Nahyan.
Edited translation from Al-Masry Al-Youm