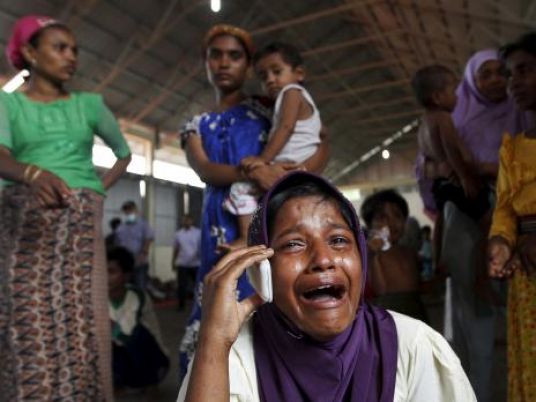 Al-Azhar, the world's top Muslim Sunni institution, said Friday that it would lead humanitarian efforts on an international level to stop the massacre, genocide and ethnic cleansing of the Rohingya Muslims in Myanmar.
"This barbarian and inhuman events would not have happened if the world conscience had not died, and all the international conventions that pledged to protect human rights, the peace of people and their right to live on their land have have become a lie that does not deserve the price of the ink spent to write on it," Azhar's Grand Shaihk Ahmed al-Tayyeb said in a statement.
Condemnations are no longer useful, Tayyeb continued, the genocide of Rohingya Muslims reminds one of the behavior of monsters in the forest. The shaky, timid appeals launched by international and humanitarian organizations to save Muslim citizens from the aggression of the Burmese army and the authorities in Myanmar have become such a waste of time, He finished.
The United Nations High Commissioner for Refugees (UNHCR) and the International Organization for Migration (IOM) have announced that the number of Rohingyas who have fled from Myanmar to Bangladesh over the past two weeks has reached 270,000.
Several countries around the world, including Iran, Afghanistan and Indonesia, saw angry demonstrations after Friday prayers, condemning the crimes against the Rohingya Muslims and the silence of the international community over the massacres in Myanmar.
Edited Translation from Al-Masry Al-Youm