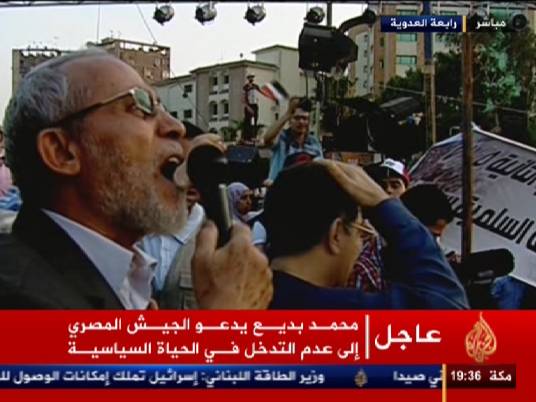 Muslim Brotherhood Supreme Guide Mohamed Badie accused Defense Minister Abdel Fattah al-Sisi of carrying out massacres "only likened by those carried out by enemy Zionists and their treacherous agents."
In a message addressed to Sisi on Sunday, Badie said that Sisi is even worse than the Pharaoh who used to kill the children of the believers and let the women live. "You and your soldiers are worse, you kill everybody," he said.
In his message, Badie held responsible for the Nasr City clashes political powers and figures whose "hatred of the Islamist current have blinded them such that they no longer can see the country's interests or the goals of the revolution."
The Health Ministry said 72 people were killed and 292 others injured in the clashes that broke out on Saturday between supporters of ousted President Mohamed Morsy and security forces.
Badie said that it is clear now that the battle is between what is right and what is wrong, like the case in the presidential runoffs between Mohamed Morsy and Ahmed Shafiq.
He said that the choice is now between the rule of democracy, freedom, and dignity on the one hand and bloodshed, suppression of freedom, and the imprisonment of Islamist and political figures, on the other.
Badie said that throughout the year of Morsy's rule, the Brotherhood tolerated false accusations, insults, and smear campaigns by the media, yet nobody was imprisoned.
Badie also said that the current regime with its security, military, judicial, and media tools twists the truth such that communications with Gaza are portrayed a crime while communications with the Zionist enemy are considered an honor.
Morsy was ordered detained 15 days pending an investigation into the Wadi al-Natroun case on charges of intelligence collaboration with Hamas and attacking police establishments.
Badie accused "Zionist fingers" of meddling in the affairs of the Arab Spring countries the same way they are present in Egypt in order to build a Greater Israel.
He added that the Zionists have killers in Libya and Tunisia assassinate political activists opposed to the Islamist current to pave the way for the removal of Islamists from power.