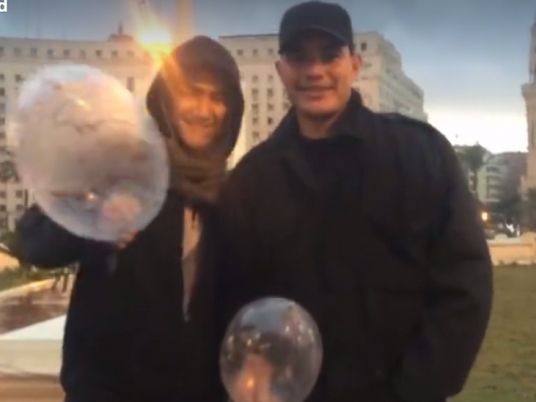 A young actor and a comedy show anchor
posted a short video
of them blowing up condoms and giving them to police as "fake balloons" to celebrate Police Day on January 25 in Cairo's landmark Tahrir Square.
The two-minute video shows puppet show Abla Fahita's correspondent Shady Abu Zaid along with 21-year-old actor Ahmed Malek writing on inflated condoms "from Egypt's youth to police on January 25".
They both headed to Tahrir Square, chanting slogans supporting the police and giving the fake balloons to low-ranking soldiers who did not recognize they were being pranked. "We went out in the cold weather to celebrate Police Day, so that no one would claim we did not," Abu Zaid wrote sarcastically on the video.
Speaking to police sarcastically, Abu Zaid wrote on his Facebook account "as long as there are no protests or any dissenting voices, we'll make fun of you to death. I hope you enjoyed."

Malek and Abu Zaid may not have realized their video would cause such a stir. The two-minute clip went viral on social media, attracting praise and criticism among people who considered it a violation of Egypt's police.
A Facebook page supporting the police said the pair had now gained "the enmity of 37,000 police officers", adding that legal action against the two is expected.
Some social media users defended Abu Zaid and Malek, posting photos of them injured by birdshot shot by police during the January 25 revolution in 2011, saying that if those who injured them five years ago haven't been arrested for what they did then why should the young men be referred to interrogation for a joke.
Another group of supporters posted a photo of a soldier in the army showing his genitals as an insult to protesters during the Cabinet's protests in 2011.
Away from social media, two lawyers filed an official complaint to the General Prosecution demanding Malek and Abu Zaid be prosecuted over "insulting" police.
"Is that what police deserve during their feast?" the complaint read in its preamble. The complaint cited provisions in the penal code suggesting that the pair could face a minimum of six months in jail and a LE3,000 fine.
Senior sources told Al-Masr Al-Youm that Abu Zaid was arrested from his home on Tuesday.
The Actors' Syndicate decided to suspend Malek and prevented him from appearing in any artistic performances. Syndicate Chief Ashraf Zaki told Al-Masry Al-Youm that Malek had called him and said he was ready to apologize, adding that his action was a mere "joke."
Shortly after the syndicate's decision, Malek wrote on his official Facebook account: "I apologize to every person offended by the video, especially police officers." He said the video went viral before he could take it down.
"I am 20, and in such an age, precipitous thoughts sometimes overcome rational thinking," he added, vowing not to repeat the offense.
Commenting on the motivations behind his action, Malek wrote: "It might be the result of frustration with the inability of my generation to express our opinions, though that does not give me the right to infringe upon others. What annoys me most is that the video will be used to tarnish the revolution; and if it happens, I am the only one to blame."