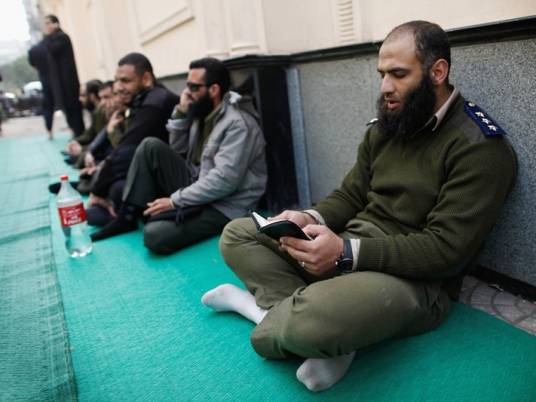 Bearded police officers protested in Abdeen on Friday, calling on President Mohamed Morsy to implement the administrative court's ruling allowing them to be reinstated. They were joined by members of the Nour Party and Jama'a al-Islamiya.
The Interior Ministry had suspended the officers from service due to their facial hair, which was against the ministry's dress code.
Protesters said the decision is now in Morsy's hands, as the head of the Supreme Council of Police. They said they would end their protest in Abdeen on Friday evening to continue their sit-in at the Interior Ministry on Sheikh Rehan Street for the fourth day.
The protesters raised banners that read: "Mr. President, you promised that none would be oppressed under the state of law," and, "We want to return to our work based on our judiciary rulings."
The protesters chanted: "The people want bearded officers," and "Oh bearded officers, by God [we swear] we will not keep silent."
Brigadier General Yasser Gomaa, head of the bearded police officers' coalition, said they were happy with the solidarity of a number of political forces, including the Nour Party and Jama'a al-Islamiya.
Edited translation from Al-Masry Al-Youm