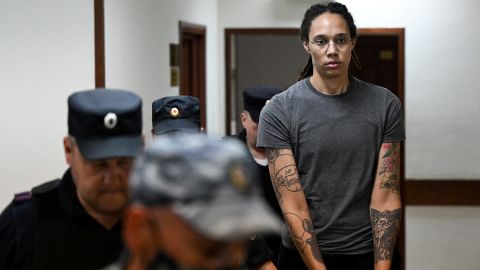 WNBA star Brittney Griner, who lost an appeal against her nine-year jail term in Russia on Tuesday, is hoping for a prisoner exchange, according to her lawyer.
"Brittney had this hope from the very start when she was detained," lawyer Maria Blagovolina told CNN's Wolf Blitzer on Tuesday evening.
Griner wasn't expecting much from the appeal hearing, but "she still had some hope," she said. "She was very upset when the court hearing ended," the lawyer added.
The judge upheld her conviction on drug smuggling charges and reduced only slightly her prison sentence.
Some background: US officials have tried to secure the release of Griner and Paul Whelan, another American imprisoned in Russia, by proposing a prisoner swap with Moscow. Those efforts have continued in recent weeks, National Security Adviser Jake Sullivan said Tuesday in a statement that called the latest hearing a "sham," adding, "President Biden has been very clear that Brittney should be released immediately."