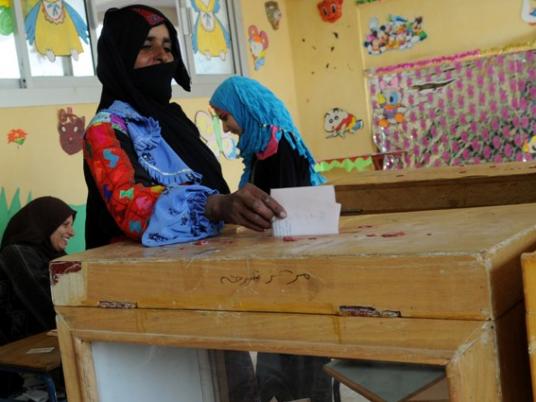 The final part of parliamentary elections on Tuesday will witness fierce competition between the Muslim Brotherhood's Freedom and Justice Party (FJP) and the Salafi-led Nour Party, with the former running for 30 seats and the latter for 29 seats. They will be competing with each other for 12 of those seats.
"We didn't campaign the day before the runoffs as ordered by the elections committee," said leading FJP figure Ahmed Abu Baraka, adding that his party is determined to defeat the remnants of the former regime.
"There are 146 independent candidates and 13 parties running, a fact which warrants more security presence than in the last two phases," said FJP candidate Fahmy Abdo.
The Brotherhood's Democratic Alliance list has won 41 percent of the seats so far, while another list led by the hard-line Islamist Nour Party came second with 20 percent of the seats.
Sixty-two percent of potential voters cast their ballots in the third round of the election, which took place on Tuesday and Wednesday, Egypt's election commission said last week.
Meanwhile, Nour Party spokesman Yousry Hammad said his candidates also stopped campaigning as per committee instructions, adding that he does not expect clashes with FJP candidates, as happened in the last phase.
"We expect to win 20 out of 29 seats," he said.
The partial results issued by the Muslim Brotherhood on Saturday suggest that non-religious parties have performed poorly.
They suggested the liberal Egyptian Bloc won 9 percent of the seats so far, the Wafd party 9 percent, former Mubarak loyalists 4 percent, the Revolution Continues coalition 2 percent, and the moderate Islamist Wasat Party 2 percent.
Translated from Al-Masry Al-Youm