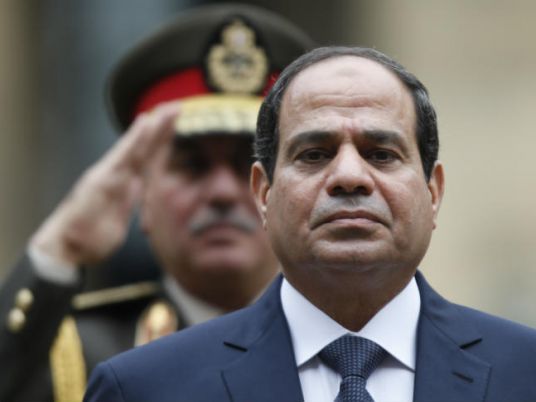 President Abdel Fattah al-Sisi has stressed that the Egyptian people will not allow the Muslim Brotherhood, the group he ousted from government last year, to make it to the next parliament.
Sisi has said recently that Parliament will be elected before the end of March.
National duty requires everyone to select the best representatives in the next elections, Sisi said in the second part of a lengthy interview with chief editors of state-owned newspapers published Tuesday. He said the recent approval of the law demarcating constituencies for the election was "a step forward," despite reservations demanding the constitution be amended.
Sisi rejected calls for amending the constitution, asking proponents of the idea to accept adopted measures even if they are not perfectly satisfactory.
Speaking about his diplomacy plans, Sisi revealed plans to visit Kuwait on 5 January, in addition to visiting Bahrain and the United Arab Emirates, and meeting with Russian President Vladimir Putin and Japan's PM Shinzo Abe in the same month.
Speaking of the Palestinian-Israeli conflict, Sisi said he strongly backs the establishment of a Palestinian state with eastern Jerusalem as its capital, and supports efforts for inter-Palestinian reconciliation.
When asked about developments in negotiations with Ethiopia over its Grand Renaissance Dam, which Egypt fears would affect its Nile River flow, Sisi said both countries have achieved positive results on official and popular levels.
The president pointed out that talks over the issue would be resumed late January in Addis Ababa, adding that Egypt seeks to turn Ethiopian verbal assurances into a binding document for both parties.
Sisi revealed he is anxious to gauge public opinion of political issues by following social media, as well as opinion polls by specialized organizations — including opposing groups — rather than sufficing with security reports.