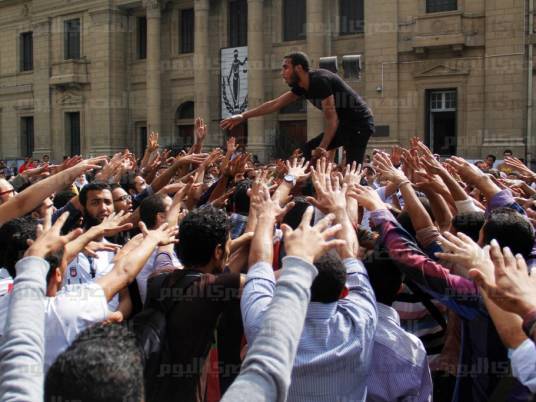 Dozens of engineering students at Cairo University continued their strike on Monday, demanding the release of their colleagues who had been imprisoned during the recent clashes. They also claimed their strike was in retribution for their colleagues who had been killed in the violence.
The students marched around the campus chanting slogans to "glorify the martyrs" and demanding freedom for those detained.
Dozens of pro-Muslim Brotherhood students at Cairo University also marched around campus, rejecting military rule and demanding the release of their imprisoned fellow students.
The university campus saw intensified presence by administrative security forces in order to prevent any violence from occurring between the pro-Brotherhood and opposing students, both marching in campus.
A report released by the non-profit Association of Freedom of Thought and Expression (AFTE) believes that the beginning of November was the "worst and the most dangerous ever" since the 25 January revolution, which has threatened the student freedom and universities' independence as well.
"This week saw all kinds of violations, as security forces attacked the university campuses, throwing tear gas bombs and gunshots which caused dozens of student injuries," the report read.
The report emphasized a noticeable increase in the number of suspended students in universities, including heads of student unions. Moreover, some students were suspended without even being called in for questioning.
Edited translation from Al-Masry Al-Youm