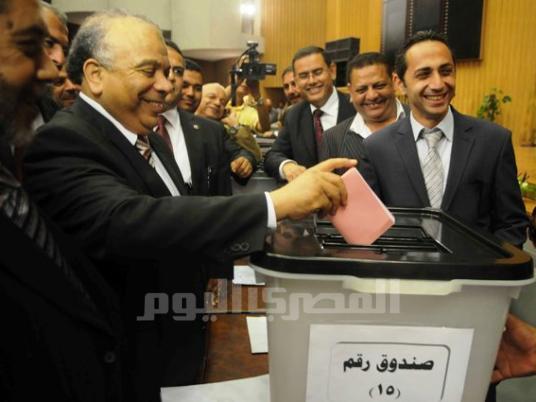 The constitution-writing panel will discuss Wednesday whether the political system will be presidential, parliamentary or mixed, among other issues, members of the Constituent Assembly have said.
The assembly formed an executive board Tuesday, appointing engineering professor and Freedom and Justice Party member Amr Darrag as its secretary general.
Five deputies were also chosen: constitutional law professor Atef al-Banna, legal experts Monsef Naguib and Mohamed Kamel, Wasat Party President Abul Ela Mady and Ghad al-Thawra Party head Ayman Nour.
Political science professors Manar al-Shorbagy, Moataz Abdel Fattah and Ashraf Thabet, who is a member of the Salafi-oriented Nour Party, will serve as assistant secretary generals.
Wahid Abdel Meguid, vice president of Al-Ahram Center for Political and Strategic Studies, will be the official spokesperson for the assembly.
In statements published Wednesday on London-based Al-Hayat newspaper's website, Nour said the assembly would discuss the general rules of operation during the constitution-writing process.
When the panel convenes Wednesday, members are expected to form five committees: the basic components of the state and society; public rights and duties; political system and public authorities; monitoring and independent bodies; and proposals, dialogue and communications.
After disagreements surfaced on Saturday over the way Constituent Assembly Chairman Hossam al-Gheriany addresses members, the body will also vote on bylaws Wednesday, Nour said.
Edited translation from Al-Masry Al-Youm