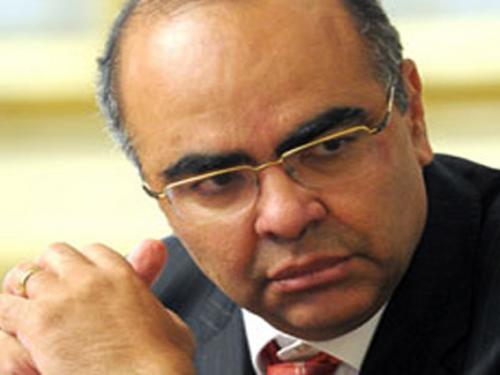 The families of activists excluded from the recent presidential amnesty, after which dozens of political prisoners have been released, have criticized what they described as the state's "hostility" towards them.
"The decision to grant amnesty to some activists has relieved us," said Nourhan Hefzy, the wife of the prominent anti-military activist Ahmed Douma. However, she has also expressed her astonishment at the fact that none of the defendants in her husband's case have been released, wondering about the "standards" applied by the authorities in granting amnesty for prisoners.
Douma and 228 others were sentenced to life in February. They were also fined a total of LE17 million, over charges of assaulting security officers and sabotage during the clashes outside the Egyptian Cabinet and Parliament in December 2011. Ahmed Douma is currently standing a retrial.
Speaking to Al-Masry Al-Youm, Hefzy said: "Priority should have been given to those arrested in the Shura Council and the Ettehadiya Presidential Palace cases. The National Council for Human Rights had already submitted a list of the activists who were not included in the amnesty".
According to Hefzy, her husband, along with Alaa Abdel Fattah and Ahmed Maher, are "disfavored" by the government. "There are young people and also elderly ones… and several girls not included in the amnesty", Hefzy stated.
Laila Soueif, the mother of Alaa Abdel Fattah, told Al-Masry Al-Youm that while she was happy about the presidential decree, she knew her son Alaa and her daughter Sanaa, as well as Douma and Maher, would not be released, citing what she labelled as "hostility towards the 25 January 2011 revolution youth".
Soueif called for the protest law to be recalled, describing it as "constitutionally flawed", and adding that the jailed activists should stand retrials.
Alaa Abdel Fattah will stand a retrial over his involvement in November 2013 clashes outside the Shura Council, while he is serving a one-year prison sentence for attacking the campaign headquarters of former presidential runner Ahmed Shafiq. His sister Sanaa had been sentenced to three years for breaking the protest law during demonstrations outside the Ettehadiya Presidential Palace in July 2014.
Another convict in the Ettehadiya Palace protests is Yara Sallam. Her father, Refaat Sallam, said he hopes security authorities would not "linger" in releasing activists after they have served their terms.
"The policy seeking revenge against the revolutionary youth is ongoing, although the majority of them had taken part in ousting the Brotherhood regime", Sallam told Al-Masry Al-Youm.
Edited translation from Al-Masry Al-Youm