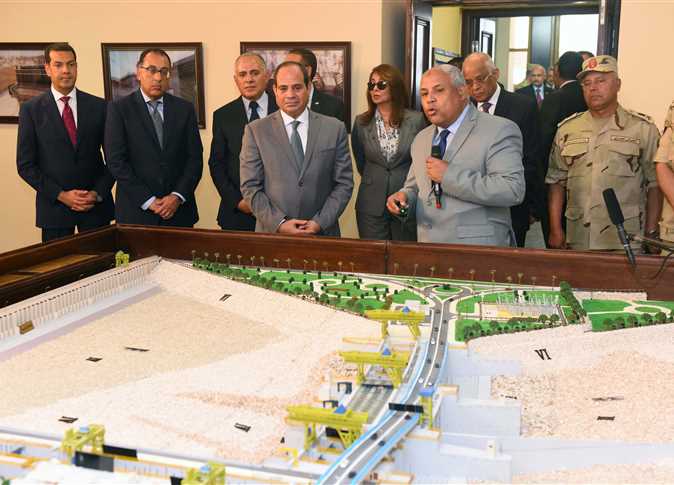 On Wednesday, President Abdel Fattah al-Sisi said that Egypt could establish large investment projects "in just one year" if the government were to cancel its subsidy bill, which has reached LE 334 billion.
He added that this was currently impossible, as the subsidies were necessary to maintain social balance under the country's difficult economic conditions.
However, he continued, meeting the requirements of the local market would represent a major step towards the bill's potential reduction.
Sisi made the suggestion in his inauguration speech of cement and marble factories in Beni Suef. The creation and running of the factory complex would, he stated, directly open 1,800 job opportunities for young people from various specialties, alongside indirect job opportunities.
Sisi described his aim of increasing the cement and marble production lines in Arish and Beni Suef. Four years ago, marble raw materials were exported, but soon, he announced, marble will only be exported in its final form.
The president also unveiled plans for an entire city to specialize in marble production; Galala Mountain city is expected to be inaugurated in two years, and include six complexes for marble production.
The government is also reportedly developing Shaq al-Thoaban area, which includes marble factories and workshops. He called on owners and workers of these factories and workshops to cooperate with the government in their legalization.
A seven-meter long road is planned between Shaq al-Thoaban area and Ain al-Sokhna to facilitate the transport of marble to Shaq al-Thoaban, said Sisi, while an institute is also planned to teach marble laborers.
"We would not have been able to complete the cement and marble complex of Beni Suef and other mega projects, without the endurance of the Egyptian people to the conditions of economic reform, and without the armed forces and the police achieving security," he said.
In his speech, Sisi also mentioned that Egypt has more than 120 business sector companies, and difficulties will be met in order to develop them. "The public sector needs LE150 billion to be developed, and has 210,000 employees."
He promised that those employees "would not be laid off" or have their income affected.
Edited translation from Al-Masry Al-Youm.