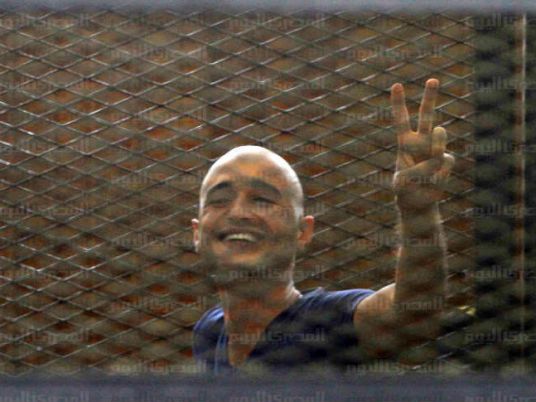 An Egyptian court upheld three-year jail sentences on Tuesday for three prominent liberal activists, judicial sources said, after days of violence around the anniversary of the 2011 uprising that toppled autocrat Hosni Mubarak.
In 2013, a court handed down the sentences against Ahmed Maher, Ahmed Douma and Mohamed Adel — leading figures of the pro-democracy revolt — for protesting without permission and assaulting police, under a new law suppressing demonstrations.
But despite Abdel Fattah al-Sisi's crackdown on dissent, renewed unrest emerged as Egyptians marked the anniversary on Sunday of the end of three decades of autocratic rule under Mubarak. Some 25 people were killed in anti-government protests on Sunday.
A car bomb killed one person and wounded two near a police station in Egypt's second largest city Alexandria on Tuesday, and police discovered three other explosive devices, security sources said, blaming militant Islamists.
Assailants hurled Molotov cocktails at another police station in Alexandria, setting fire to part of the building. There were no casualties.
Two bombs planted in front of a courthouse in Cairo's Heliopolis district were defused while a bomb in front of another courthouse in Fayoum province exploded without causing injuries, the security sources said.
Militants have stepped up attacks against soldiers and police since the army toppled President Mohamed Mursi of the Muslim Brotherhood in 2013 following mass protests against his rule.
Critics accuse Sisi, the former army chief who was elected president last year, of returning Egypt to authoritarian rule. Sisi says he is committed to democracy in Egypt, a strategic U.S. ally with influence across the Arab world.
Security forces have mounted the biggest crackdown against Islamists in the country's history on Sisi's watch and liberal activists have also been jailed.