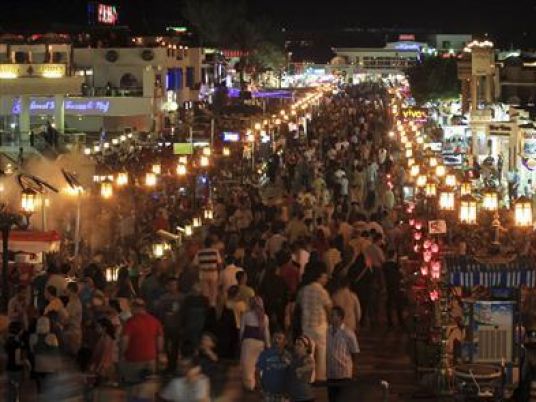 Egypt is urging Germany to ease its advice against travel to the entire Sinai peninsula after security concerns following the fatal bombing of a tourist bus prompted operators to bring back holidaymakers from the Sharm el-Sheikh Red Sea resort last week.
"The latest crisis that we are in today is the negative travel advisory by the German government," Egypt's Tourism Minister Hisham Zaazou told Reuters in an interview at the ITB travel fair in Berlin on Wednesday.
The bombing of a tourist bus in Egypt's Sinai killed at least two South Koreans and the Egyptian driver last month in the first attack on tourists since a July army takeover in Cairo spurred an Islamist insurgency.
The attack has led to renewed concerns for tourism in Egypt, an industry that provides a livelihood for millions and brings in much-needed foreign currency for the government.
Zaazou said Germany's move to recommended its citizens refrain from travelling to the beach resorts on the Sinai peninsula prompted 11 other European countries to follow suit.
"Some of them, I won't name names, when asked 'Do you have a specific issue for me to discuss with you' said 'No, not really, but we are following what the Germans did," he said.
Germans and Russians are the most numerous visitors to Egypt, which saw tourism revenue plunge 41 percent to $5.9 billion last year due to the waves of unrest that have swept the country since the Arab Spring uprising in 2011.
France and Britain, two other major sources of tourists for Egypt, also advise against travelling to the peninsula but exempted Sharm el-Sheikh last week.
German tour operators started bringing hundreds of holidaymakers back from Sharm el-Sheikh on February 27.
"It was a little odd that as we were bringing our guests out, the British were sending their guests in," Dieter Zuempel, managing director of Germany's fourth-largest tour operator Alltours, said on Wednesday. "But when it comes to the safety of our guests we follow the advice of the foreign office."
Zaazou said he spoke to senior officials at Germany's Foreign Ministry on Tuesday and invited the government to send security experts to Egypt to assess the situation themselves.
DIFFICULT TO REACH 2014 TARGET
The renewed security concerns could hurt holiday bookings for the Easter holiday season, a "prime time" for Egypt, Zaazou said, which would make it difficult to reach a target of boosting 2014 visitor numbers to between 11.5 million and 12.5 million, from 9.5 million last year.
"If the situation is favorable, like it was until a very few days ago, I might cross the 11.5 million and reach the 12 or 12.5 million. But in this situation right now, it is very challenging for me to achieve," he said.
Egypt has been planning to put out to tender an international campaign to lure back foreigners deterred by political turmoil, but Zaazou said he may be forced to put it on the back burner if the situation does not improve soon.
For the moment, it is trying to spruce up its image by winning endorsements from visiting celebrities and signing international artists for events in the country.
Zaazou, however, stuck with an outlook for Egypt to bring in 30 million visitors a year by 2020, generating $25 billion of revenue – double the figures for 2010.
"Egypt's tourism may get sick but it doesn't die. I hope within a short time we will be in a convalescence period and fully fit within a very short period of time," he said.
His optimism for the longer term echoed comments by Taleb Rifai, secretary general of the United Nations World Tourism Organisation, who said tourists often returned to a destination once it had seen 6-9 months of relative calm, adding that Egypt needed a little breathing space.
"It's a major transformation going on there at the moment and it will do Egypt good eventually," he told Reuters.