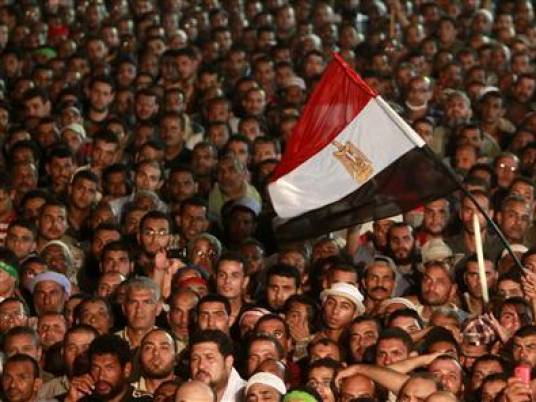 Allies of deposed Egyptian President Mohamed Morsy told mediators on Saturday that they respected the demands of a mass protest that led to his downfall but that army chief Abdel Fattah al-Sisi must not be part of any political deal.
Tarek El-Malt, spokesman for the pro-Morsy delegation that met the envoys from the United States and the European Union, also said Morsy's allies were seeking a solution to Egypt's crisis based on a constitution suspended after he was deposed.
Malt, speaking to Reuters by telephone after the talks, said Morsy's allies wanted the constitution restored out of respect for the demands of Morsy supporters protesting in Cairo and whose stated demand is that he be reinstated as head of state.
He said the constitution held "more than one solution" to the crisis.
He added that if Morsy's opponents insist he should not be part of the "political equation," then "the steadfastness and sit-ins of the millions in the streets for five weeks requires that Sisi must also not be in the political equation."
Asked whether the delegation had told the envoys that Morsy must be reinstated, Malt said that would be worked out in the details. "This is part of the political initiatives," he said. "We did not get into the details of the political initiatives".
A member of the Muslim Brotherhood-allied Wasat Party, Malt was part of a delegation that had met with U.S. Deputy Secretary of State William Burns, U.S. Ambassador Anne Patterson and European Union special envoy Bernardino Leon.
"I respect and hold in regard the demands of the masses that went out on 30 June, but I will not build on the military coup," Malt told Reuters by telephone, relaying the messages delivered to the envoys. He said that the demands of the Morsy supporters must also be respected.
Malt added that political solutions must be hammered out with the National Salvation Front – the loose coalition of non-Islamist parties that backed Morsy's overthrow and which includes interim Vice President Mohamed ElBaradei.
"We [will] sit together and we will assess proposed political initiatives and reach solutions that respect all popular desires. But the army will not have a role in political solutions," he said.
Malt said a period of calm was needed to build confidence among all parties, and called for the release of what he called political detainees.
"We have the readiness and flexibility to accept political solutions to get out of this crisis as long as they are based on constitutional legitimacy, by which we mean the return and reactivation of the 2012 constitution," he said.